Photo Credit: AngelM – More of this Wedding Ceremony in Rangiroa
You know of the big names: Tahiti, Bora Bora. Mythical Bora Bora.
The United States chose Bora Bora as a military supply base during WWII, and a supply force was maintained there until 1946. The small airstrip that was built on the island back then to accommodate small aircrafts was the only international airport in French Polynesia until Faa'a International Airport was opened in 1960 on the capital island of Tahiti.
This is when tourists started visiting the destination and a few years later, the famous overwater bungalows, a quintessential Tahiti landmark, were born.
But did you know that French Polynesia consists of 5 archipelagoes, and a total of 118 islands? Yep. While not all are inhabited, there is a crazy large choice of islands to visit and discover. The good news: most combine all the features you've been hoping for your Tahiti elopement, and secretly dreaming at:
Seclusion, Privacy, Experience.
Sorry, but Bora Bora resorts are not going to make it to my list.
Don't get me wrong, resorts on Bora Bora are beautiful. Beautiful grounds, beautiful rooms, beautiful surroundings.
Bora Bora however is the most visited island in French Polynesia, and with success come a few drawbacks: lack of privacy, not-so-authentic experience, cookie-cutter offers. When it comes to celebrating such an important life event as your wedding or a vow renewal in Tahiti, you don't want to have onlookers, nor do you want to have the exact same ceremony another couple had this morning, or yesterday, and the day before that.
While Bora Bora is better known as the "romantic island", there are many gorgeous islands in French Polynesia worth considering for your beach wedding ceremony, or mountain top ceremony… Moorea is the preferred island choice for those seeking adventure with plenty of activities available, Rangiroa or Fakarava are preferred choices for scuba divers, Huahine is very lush and authentic, and there are also gorgeous remote places in the Austral islands (southernmost archipelago) and in the Marquesas (northernmost archipelago).
[Between 2002-2007] I used to work with cruise ships in French Polynesia and to handling all of their calls in the islands; I would plan and coordinate shore excursions for the passengers and welcome programs everywhere in The Islands of Tahiti so I've visited those islands extensively.
Pass The Expensive Wedding Arch in Bora Bora, Choose A Remote Wedding Location For Your Ceremony in Tahiti Instead
Let's face it, flying your ceremony officiant and photographer to a remote island in Tahiti will add up costs, but the amazingly unique experience, memories and photos that will come out of it are worth every penny.
A resort in Bora Bora will charge you anywhere between Xpf 40,000 to Xpf 100,000 for the simplest wedding arch, and another Xpf 20-25,000 for adding flower petals in the aisle.
With that money you can fly 2 people (say your Tahiti officiant and a photographer) to your gem ceremony location in Tahiti on a remote island and accommodate them for one night!
I am based in Moorea but happy to meet you anywhere in the islands.
Here are my recommendations for a truly unique Tahiti secluded beach wedding ceremony or a vow renewal:
Ceremony in Rangiroa or Fakarava – Tuamotu Islands
The Tuamotu islands are any diver's paradise. Snorkeling and diving there is just phenomenal! It's super remote yet flying there from Tahiti is only 10 minutes more than flying to Bora Bora; a flight from Tahiti to Rangiroa lasts just an hour (with daily flights) and a flight from Tahiti to Fakarava is an hour and 10 minutes (with 3 flights a week).
These are atolls, with no mountains at all, but huge lagoons (Rangiroa has the 3rd biggest lagoon in the world). That means, from the shore looking at the lagoon-side, you can't see the end of it… it's so big, and clear, and full of tropical fishes! Yet when you walk across towards the ocean-side, you can enjoy the sound of the waves breaking out on the reef. It's so serene and you'll find your own Tahiti secluded beach quite frankly anywhere!
Photo Credit: AngelM – Reef Side Wedding Ceremony in Rangiroa
In Rangiroa or in Fakarava, you can choose to stay either at a hotel/lodge, or at a family-run pension depending on how you like to be vacationing.
Why Not Having Your Vow Renewal or Wedding Ceremony in Fakarava?
Fakarava from Flying World Pictures on Vimeo.
Ceremony in Nuku Hiva or Hiva Oa – Marquesas Islands
The Marquesas archipelago is the northernmost group of islands in French Polynesia, with a flying time of a little over 3 hours from Tahiti (there's a flight almost every day to Nuku Hiva). Much younger than the afore-mentioned Tuamotu islands that have sunk in the ocean overtime, the Marquesas feature impressive mountain peaks, sheer volcanic cliffs, huge waterfalls, and lush valleys. There you will encounter wild horses, goats or pigs as you drive or hike around. There are fjord-like bays and mostly black-sand beaches, too. The Marquesas islands are well-known for their rich culture and craftsmen who excel in the art of stone and wood carving to make sumptuous sculptures and tikis.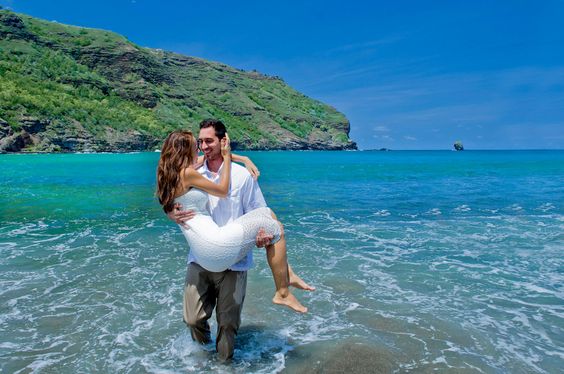 Engagement Photo Shooting in Hiva Oa by Helene Havard
The Austral islands are located in the south of French Polynesia, on the Tropic of Capricorn. There are two flights a week that go there and the trip is an hour and a half only. They are known for their handicraft, especially the weaving of coconut and pandanus leaves to make hats, purses, mats, and bags. While humpback whales are also present from July to November in the Society Islands (Tahiti, Moorea, Bora Bora, and Huahine to name just a few) the ocean that surrounds the Austral Islands is a favorite home to those whales during the season, and the ideal place to go watch them.
Why Not Having Your Vow Renewal or Wedding Ceremony  in Rurutu?
Rurutu from Flying World Pictures on Vimeo.
You know that I'm always up for something new so feel free to contact me if you'd like to hold your ceremony on one of the above islands, or anywhere in French Polynesia. I collaborate with great photographers who're also ready to shoot new and unique images, just for you.
So, what's your island choice for a Tahiti secluded beach wedding ceremony or a vow renewal ceremony?
Would you like me to help you to plan your Tahiti secluded beach wedding ceremony, and find unique locations for a great photoshoot? Contact me to get started.
For more articles like these subscribe to my monthly newsletter HERE (and

Get the Free Report to pick the best Wedding Ceremony Location in Tahiti

)!