Kelly & Jon's Renewal of Vows in Moorea (July)
Photo Credit: AngelM
Let me start this post with some facts: temperature in the Islands of Tahiti averages about 79 ° F year-round, both the air temperature and the water temperature! That's pretty cool, uh?
We are a tropical destination blessed with a lot of sun, and well, a bit of rain, too. You wouldn't think that it can be this luxuriant and green and flowers everywhere with no rain at all? Right?
So now you wonder: "What if it rains on my wedding day?!??"
Here is a cool chart courtesy of Tahiti Tourisme that compares Tahiti vs. Hawaii: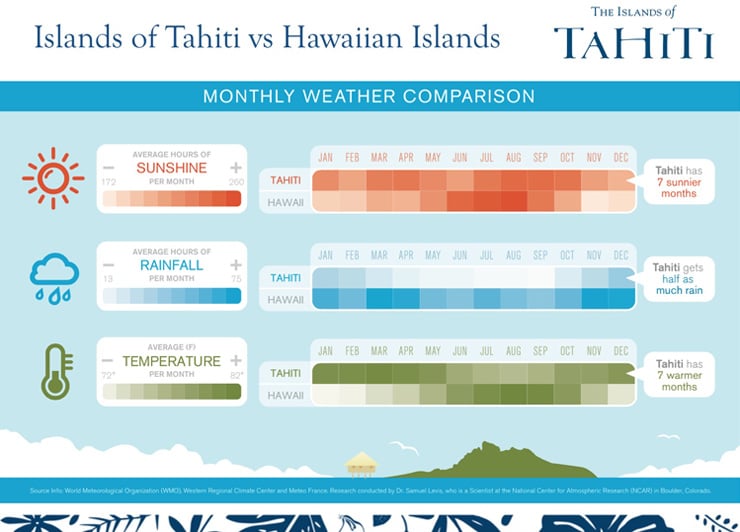 Can you believe that Tahiti gets only half as much rain than Hawaii? There is twice as much chances to get rain on your wedding day in Hawaii than there is in Tahiti! So we can safely say…
Chances Are Big That It Will Be Sunny, But What If It Rains On Your Wedding Day?
Mother Nature is Queen.
Sure, having a plan B for rain doesn't take as much on great importance in Tahiti than if you were marrying… I don't know, say in Louisiana. But still, if you don't carefully consider what effect a rainy weather could potentially have on your wedding day at your specific location, you can end up stressing out like crazy in the days leading up to the wedding and worst, on your wedding day.
So before you choose your venue or ceremony location, consider the worst case scenario.
What if it rains on my wedding day? What if it is blistering hot?
Don't simply go with what weather you're supposed to be having… climate change is no joke. You may come across online literature that says we have a rainy season in Tahiti, and a dry season. This used to be true (and, to a certain extent, still holds true: our Summer months from December to February do get way more rain than any other time of the year) but I have not seen a DRY season for years (with no rain at all for months, and water shortage in some areas of the island, like we often had a few years ago). Rain showers are a norm all throughout the year, but more often than not, they're just that: quick showers.
Make sure that you are comfortable with your ceremony and reception location in EVERY possible situation.
Maya & Stefano's Destination Wedding in Moorea (April)
Photo Credit: Nick Radford
Your Wedding Photos On A Rainy Day In Tahiti Can Be Damn Cool

My point is, whatever the weather, you'll have a fantastic time because rain or shine, you'll be bursting with love and happiness on your wedding day; rain or shine, Tahiti looks beautiful; rain or shine, at the end of the day, you'll be married to your other half, and that's what matters.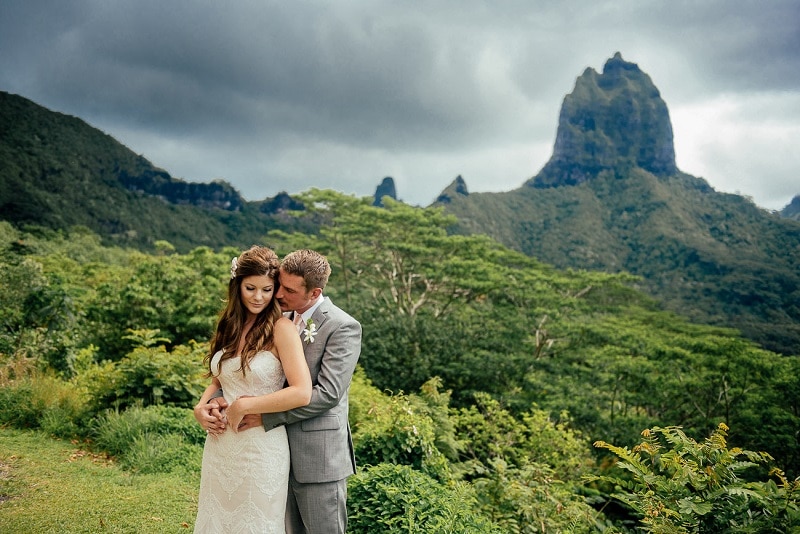 Lauri & Nick's Destination Wedding in Moorea (October)
Photo Credit: Helene Havard

Here are 5 tips to make sure your wedding day in Tahiti is absolutely amazing whatever the weather:
1. Be decisive

Do not agonize over what you're going to do about, or how you're going to cope with, the rain. Decide early on what you want to do if it's raining and stick to it.
You'll not want to wait until the last minute to make a decision. I'd usually play on the safe side (that's the Cartesian me) but if you do not want to compromise with the outdoor ceremony and have it no matter what, make a decision, (purchase umbrellas if you have not planned for a tent), and stick with the idea.
2. Trust your vendors

You hired professionals for a reason. They know their craft, they know your venue, so they will make it happen, rain or shine. This is where having an experienced wedding planner and photographer really makes a difference!
3. Be prepared

This either means purchasing matching umbrellas for your guests, or having a tent ordered and delivered to your location (remember quick deliveries take an all new meaning when you're in Tahiti, where logistics are a little more difficult than anywhere else), or at the minimum communicating with your guests so that they also get prepared (and wear adequate clothing and shoes).
4. Embrace it

The forecast says there's a 100% chance you're going to get wet, now what? You're in Tahiti! Have fun!
5. Appreciate it

I know photographers who LOVE shooting inclement weather days… you'll get so many fantastic photo opportunities and also great things happen on rainy days… gorgeous sunsets!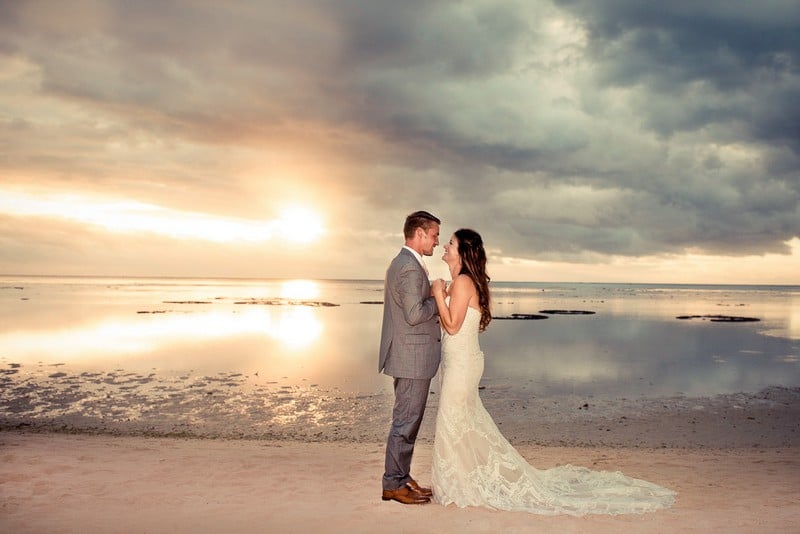 Photo Credit: Helene Havard

** last updated on March 25, 2019 **
Need Some Advice For Your Destination Wedding In Moorea? Head Here or Contact Me To Get Started!
For more articles like these subscribe to my monthly newsletter HERE (and

Get the Free Report to pick the best Wedding Ceremony Location in Tahiti

)!