Back in 2015, I started a series of interviews of my preferred wedding vendors in Tahiti, all those very talented wedding entrepreneurs I am lucky – and proud – to team with to make my couples' wedding day vision come to life. Sadry Ghacir is based on the island of Bora Bora (want to elope and have a wedding video in Bora Bora? read this first) and this is where he works most of the time, but he also flies to Moorea whenever my couples want him to shoot their special day in Moorea.
With these blog interviews, I want to bring the very best people to you. I've worked with these individuals, and would refer them to anyone of my couples without hesitation!
Wedding Video In Bora Bora
Videographer SADRY GHACIR

This month's wedding vendor whom I want you to get to know is Sadry Ghacir, a talented videographer specializing in wedding video in Bora Bora, and a cool dude all around.
 1. Tell Us A Bit About Yourself, What You Do And What Led You To Photo & Video.
I am originally from Briançon (in the French Alps), and have loved photography and cinema since I was a kid. I worked as a bellman at the Sanderson Hotel in London for 9 years (conceptualized by Ian Schrager, founder of Studio 54, all Stark design, listed within the top 10 of the most beautiful boutique hotels in the world for a long time).
I am deeply in love with the Polynesian culture, and started out working as a photographer and a videographer in 2012. I was lucky to get a mention of my work in the Wall Street Journal, in an article covering Professional Vacation Photos: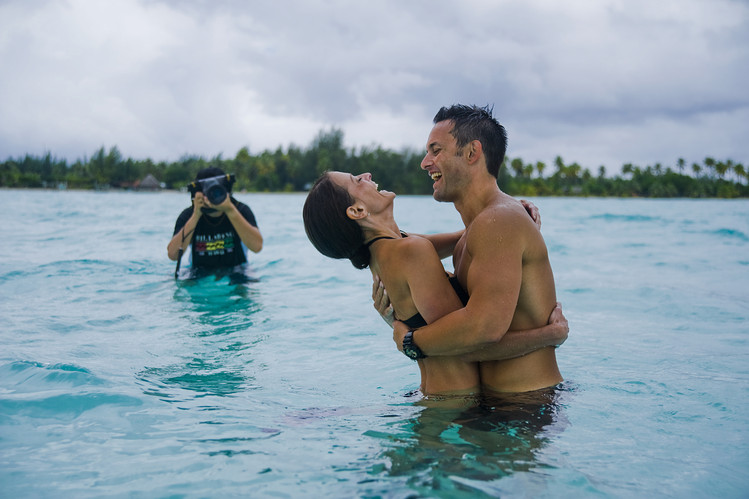 The Four Seasons Resort Bora Bora is planning to unveil a 'Romance' room-service menu in August that will feature a couples' photo session. Here, videographer Sadry Ghacir filmed Shira and Chuck Badger at the Four Seasons Resort in Bora Bora. HELENE HAVARD

I also created the humoristic web series "Rai & Mana", which has been super successful in Tahiti, did participate in two film festivals, shot for Teen Vogue USA, and have had a few parts of my wedding videos aired on U.S. TV networks… okay, that was my "show off" moment 😉
2. How Do You Work With A Couple And What Is The Process Of Making A Great Wedding Video?
All the planning part is usually handled by the Bora Bora resorts' wedding coordinators, or by Nelly, and I get in touch directly with clients when they have questions that are a little more technical. It is essential to book my services in advance, at least 6 months ahead to make sure I am available (sometimes up to one year in advance).
How to make a great wedding video? Good communication is key; I can work with very specific requests but most often my clients trust me to decide on the artistic style & make their wedding film the best it can be.
3. What Inspires You? Are There Colors Or Trends You Absolutely Love?
Being a photographer as well, my photographic skills inspire me for my framings when filming. I am generally inspired by movies using the cinematography standards, whether classical or modern; I am of course inspired by each individual couple I meet, as they each have their own story.
I love the colors of French Polynesia, black & white, the vintage look, and always try to capture the very best image and lighting for every shooting.
4. What's Your Favorite Part Of The Job?
I love meeting people from different countries and horizons, discuss different cultures, and witness what is the most unique moment in a couple's story: their wedding. I very much enjoy the post production process at home and watching the edited video. I like to keep in touch with my past clients, many of them have become good friends by the way! I also like to receive feedbacks on my work (whatever it is) from family members or friends, who sometimes moved me when I read them.
5. Any Advice To Pass Along To Couple About?
My best advice is to be true to yourself. Every couple is different and every couple has its own eccentricity. Talk with your heart and let the emotions flow. Props are welcome, I very much like filming lovely boxes for the rings, original cuff-links, any tiny detail that sets you apart and tells your story, would it be the great-grandfather's watch or the heirloom fabric sewed by the mother of the bride under the dress' skirt… this kind of things!

Thanks Sadry! For more about Sadry, contact me or head to his website for a few example videos!
 Want To Watch My Latest Wedding Videos by Sadry Ghacir? Click Here!
For more articles like these subscribe to my monthly newsletter HERE (and

Get the Free Report to pick the best Wedding Ceremony Location in Tahiti

)!