I've been specializing in Tahiti elopements and micro weddings for quite a few years now. Among my couples are those who are avid travelers, and would not consider tying the knot if not for a destination wedding. I also get to work with couples who have given a try at planning a home wedding, only to realize this was way too much stress and so overwhelming. They then started searching for destinations, and exploring the interwebs for Tahiti elopements and micro wedding ideas.
Photo Credit : Turama Photography (more of this couple's wedding in Moorea here under the Destination Weddings' section and 'Micro Wedding at an Airbnb' tab)

We all know these individuals who started dreaming of their wedding since their childhood.
You see how magical weddings are on television and in movies, so it's no wonder that (mostly) women are becoming little wedding planners by the time they can get on the school bus by themselves.
One thing they don't tell you in the movies is how much time and money goes into planning a wedding. In the movies, the two fall in love and seem to get married almost right away. Another thing they don't tell is that you have a ridiculous amount of options for your wedding venue and location these days. You really don't have to get married in the neighborhood church anymore.
Enter Tahiti Elopements And Micro Weddings

And cue the destination wedding. Traveling to a distant location to say "I do" in one of the world's most beautiful places – namely: Tahiti, is becoming more and more popular in recent years. Couples are leaving tradition behind sticking their toes in the sand while they pledge their love to their future spouse. Many are also leaving guests behind to elope.
Can you imagine that? Just the two of you.
Tahiti elopements and micro weddings is what I do full time. If you've ever dreamed of jetting over to a secluded beach to recite your vows, here are some reasons you should ditch tradition and do just that.
6 Reasons Tahiti Elopements And Micro Weddings Are The Tops
1. Say Goodbye To Formality

Have you been dreading wearing heels and an over-the-top dress for your wedding, or the mandatory tux fitting? Are you worried that your guests won't show up in the proper attire? None of that matters with Tahiti elopements! No guests. You can be as casual as you want. You can even walk down the aisle barefoot if you want to.
If you'll be having a micro wedding in Tahiti, those people surrounding you on the day will likely be your parents and siblings, or your chosen family and BFFs. This means they know you inside and out, so there's no pressure whatsoever on you in showing off or doing things that are not true to you.
The majority of soon-to-be married couples want their wedding to be remembered as fun and casual. What's more fun and casual than a Tahiti micro destination wedding? You and your guests will be at a gorgeous resort or at a luxury vacation rental villa with fun and relaxing activities to do, as well as plenty of drinks!
2. And Half The Guest List

When you sat down to draft your guest list, did you start panicking? A lot of couples do. You suddenly start to realize how many people are in your family. You also start to evaluate how important some people really are, and how some people really aren't.
The average number of wedding guests for a traditional wedding is 140. That sometimes gets to way, way more than that. For a destination, that average number drops to 48. No longer will you have to include your third cousins you've only met once or your dad's weird coworkers. Your wedding will be much more intimate so you can celebrate with only the people you truly care about.
The average number of guests at my Tahiti destination weddings is 25-40. I also do quite a few micro weddings in Moorea where the head count usually is in the 12-20 range. And of course, all the Tahiti elopements where that is just the two of  you!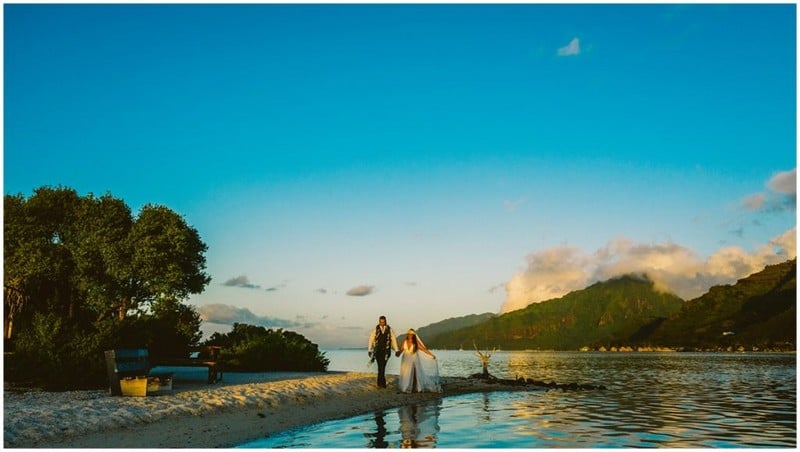 Photo Credit : Bradyhouse Photographers (more of this couple's wedding in Moorea here under the 'Private Islet Reef-Side at Sunset' tab)
3. The World Is Your Oyster

When you choose a destination wedding over a traditional wedding, you can have your big day anywhere in the world. Destination weddings are defined as the marriage ceremony taking place at least 100 miles away from the couple's permanent address. Many couples choose to go much further than that, though.
The other thing about destination weddings is that you are not confined to certain times of the year because of weather. If you live anywhere where it snows in the winter, then you know your window for an outdoor wedding is very slim. However, you can celebrate outside in the Winter if you travel to a tropical location for your wedding.
Tahiti elopements and micro weddings are best planned between March and mid-December (the months of January and February being the Summer months in Tahiti, when it's really hot and rainy).
4. They Are One Of A Kind

If you're the kind of couple who wants to be different that everyone else, then a Tahiti destination wedding is for you. There are more than two million American couples that get married every year, and only 25% of them have destination weddings.
When you travel to a far away location for your wedding, you don't have to worry about having your reception at the same place as one of your friends or even where you had your high school prom. You will be truly unique with a destination wedding.
5. Stress? What Stress?

So many couples say that wedding planning is ridiculously stressful, and you've probably felt that yourself if you've already started planning. Destination weddings are hands down less stressful than traditional weddings.
All you have to do is to find a reliable destination wedding planner locally so you really don't have to do much. In most cases, all you really have to worry about is getting there. You'll be offered options for photography, cake, and officiant services and won't have to worry about the little details, it will all be handled for you.
6. It's A Built in Honeymoon!

The honeymoon is arguably the best part of the wedding events. Couples are actually getting really serious about planning their honeymoons lately. The average couple spends three times more money on their honeymoon than they would on a regular vacation.
With Tahiti elopements, there is no extra planning involved! All you have to do is stay at your beautiful resort or villa for a week after your ceremony, or fly to one of the outer islands (like Bora Bora). There's no more stressful traveling involved after you say "I do."
To all the couples out there in the middle of wedding planning right now (and those whose wedding plans have sadly been put to a halt because of covid): stop what you're doing and start browsing past Tahiti elopements.
I can help you! Your wedding day is supposed to be the most joyful day, and one you want to remember forever. Ditch the tradition, throw on your flip-flops, and get married on the beach in Tahiti!
Sold On Having A Destination Wedding In Tahiti? Contact Me To Get Started!
For more articles like these subscribe to my monthly newsletter HERE (and

Get the Free Report to pick the best Wedding Ceremony Location in Tahiti

)!