Advances in technology have brought drones to the general market these past few years, and lately the use of drones has been trending for wedding photos and video as well.
While Tahiti is sometimes a little behind the times – but that's what makes it so great, right? – I am proud to be partnering with a professional photographer who does drone wedding photos for my couples.
Wedding Photography In Tahiti Takes On A Whole New Level With Drone Wedding Photos

You can take my word for it!
Tahiti offers striking landscapes for wedding pictures, ranging from crystal clear lagoons to lush and verdant forests or high-mountain peaks. So now, you can upgrade from amazing to stunning with breathtaking cinematic aerial shots to take home.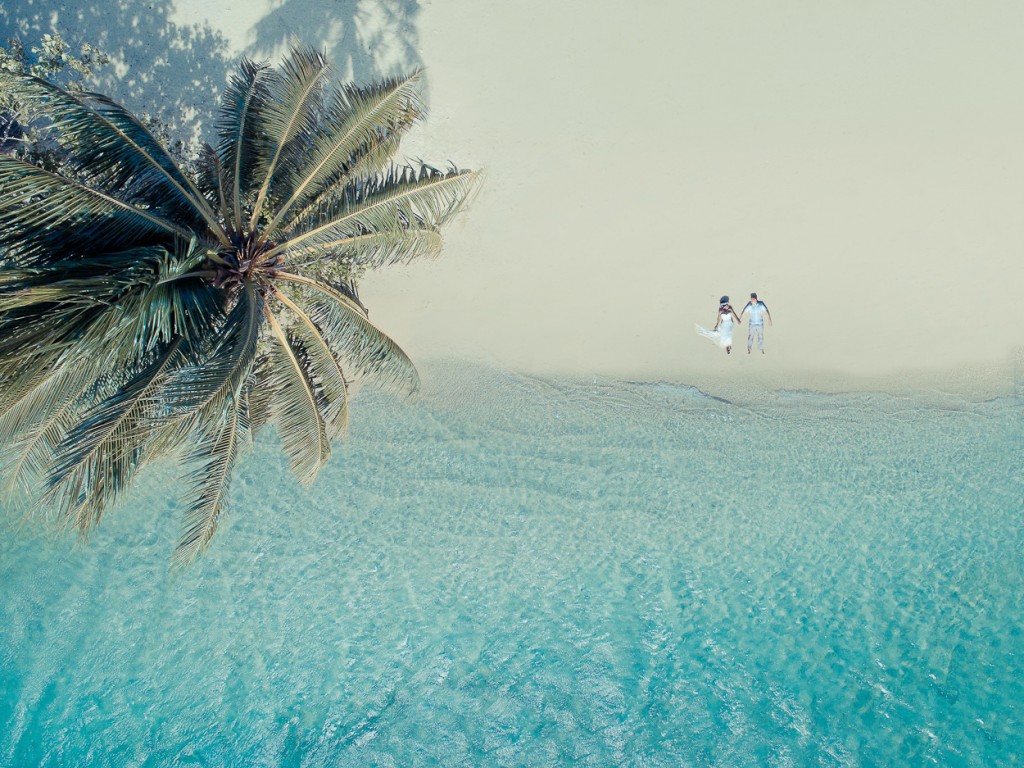 One must however make sure to work with an experienced wedding planner who will know the ins and outs of drone wedding photos in Tahiti, from required advance notice for booking a drone photo shooting, to permits and/or resorts allowing drone photography above their grounds, authorized areas, how many flights will need to be operated to cover your wish list of shots etc.
Talented Helene Havard along with her associate videographer Flying World Pictures whom I often collaborate with for my couples have been featured all around lately, like in this article where one of my couples were pictured after their private islet beach ceremony in Moorea floating in the middle of the lagoon (photo below), and also on HUFFPOST WEDDINGS yet with another one of my couples lying in the sand under a coconut tree (photo above)… gorgeous, don't you think?

Here are just a few more articles and examples of drone wedding photos in Tahiti by Helene Havard:
Metro UK – The Post Internazionale IT – Feature Shoot U.S. – FHOX BR
I want to hear from YOU! Comment below and tell me if you'd see yourself there!
For more articles like these subscribe to my monthly newsletter HERE (and

Get the Free Report to pick the best Wedding Ceremony Location in Tahiti

)!