What first comes to mind when you think of your elopement or destination wedding in Tahiti? A wedding in Bora Bora of course! Why is that so? The United-States chose Bora Bora as a military supply base during WWII, and the small airstrip that was built on the island back then was the only international airport in the Islands of Tahiti for a long time – until the Faa'a International Airport was opened in 1960 on the capital island of Tahiti. With that, Tahiti has become a popular destination, and in recent years, the destination has seen an increasing number of Bora Bora weddings.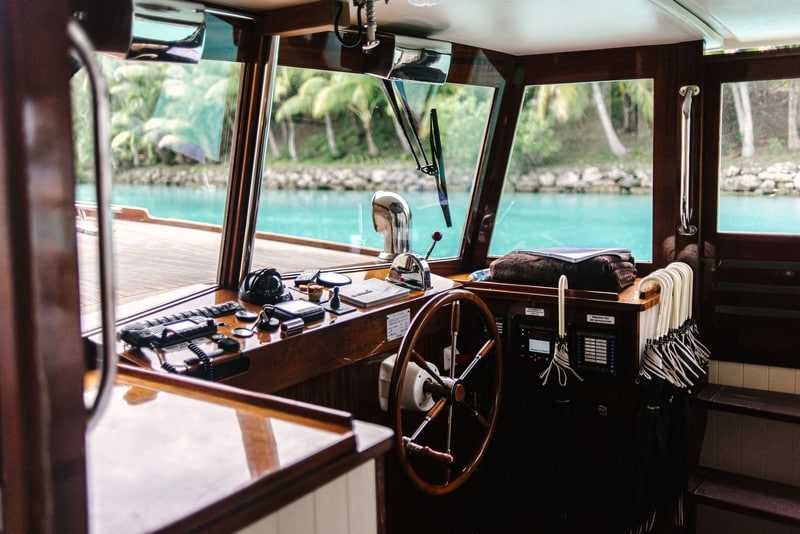 Photo Credit : Neubek Photographers

Those of you who have been following me on the Blog for some time know that I am from a hotel background. I went to hotel school at age 14 and studied hotel management, catering, cooking (yeah, if you know me on a personal level you can hardly believe that but yes, I could have become a Chef!), accounting and marketing all the way to a Master's degree in Hotel Management & Marketing.
While I specialized in hotel management early on in my career, I worked pretty much every hotel & restaurant department including the front desk, reservations, accounting, bar, restaurant service & management and, in the kitchen as well.
I have been in the Islands of Tahiti since 2002 and worked executive positions in a Bora Bora resort (Le Bora Bora), next in a Huahine resort, and eventually life led me to Moorea where I was the General Manager & the Director of Sales & Marketing of a resort for 5 years. That is almost a decade working management positions in Tahiti resorts. I booked a number of destination weddings in Moorea over the years (not so much in Bora Bora as Bora Bora resorts were not as popular for weddings back then, and too expensive to consider bringing family and friends along + there was not such a thing as eloping in Tahiti just yet) so it is safe to say that I know my craft when it comes to booking your wedding at a resort in Tahiti.
From booking on the wrong sites to forgetting to check some vital information, these mistakes could easily make or break your trip. Find out what you must avoid when booking that hotel room in HuffPost "10 Hotel Booking Mistakes You Didn't Know You Were Making"

Truth be told : the items listed in the above article are super accurate. But how is it any different when you book a resort wedding in Bora Bora, than it is when you book a regular vacation?
It's been a number of years now that I've specialized as an independent Destination Wedding Planner in Tahiti and I'm seeing more and more couples reaching out to me frustrated after they've booked, or attempted to book their wedding at a Bora Bora resort only to find out they cannot have the wedding they want.
So here is my take on what I've seen being the top 3 frustrations couples shared with me :
Booking Your Wedding at a Bora Bora Resort :
Top 3 Mistakes You Didn't Know You Are Making

Resorts in Bora Bora are gorgeous. Most of them offer excellent service and are totally great in what they do… but when it comes to planning the wedding of your dreams, not all offer the same level of service so, read on and consider those mistakes others did before you book your wedding at a Bora Bora resort.
Note that ALL quotes below are the exact wording I received from couples :
Mistake 1 of 3: Assuming 5* Resorts Will Provide Any Wedding Service For You
I want to get legally married in Bora Bora but the resort said that this is not their area of concern.
When we booked we had hoped that we could get everything done through the Bora Bora resort * wedding co-ordinator. Getting the legal ceremony done possibly in the morning and then having the proper ceremony at the resort in the late afternoon. The hope was that the Bora Bora resort * wedding co-ordinator would help us with the legal side (we see it as a formality in the morning with the real wedding being in the afternoon – ideally we could have done this all at once but it's not possible as you can't legally marry at the resort). We've now been informed that the Bora Bora resort * is unable to help us with any aspect of the legal wedding arrangements (disappointing for a 5 star resort) so we really need help with this.

The thing is, most resorts in Bora Bora (actually pretty much any Tahiti resort, or any resort around the world) have a great turnover and their so-called "Wedding Coordinators" or "Wedding Planners" do not necessarily have any sort of prior experience in planning weddings, and they're simply trained to sell whatever services are listed on the wedding menu : ceremony A, B or C, a romantic dinner at the resort's restaurant, a bed of flowers at turndown service.
So when it comes to the legalities they simply have no clue and will either tell you that it is extremely complicated to discourage you to legally marry in Tahiti (and to get them into doing something they have no experience with) or they will say the service is not available. Disappointing, huh?
That's why you need me. Trust me on this one, you better not do this with your resort if they don't know better than you do, as it will indeed feel complicated for everyone involved. Make yourself a favor (and avoid the headache) and either forego the entire legal part, or go with an experienced Legal Wedding Planner instead, so you can be confident that 1. your legal ceremony is happening 2. your wedding certificates will be valid back home.
I've planned plenty of legal weddings in Tahiti, in Moorea, in Bora Bora, in Taha'a and in Rangiroa since 2014, and can get you legally married anywhere in French Polynesia given we have enough time to get the paperwork sorted before the deadline of your application's submission at Day – 45.
Mistake 2 of 3: Assuming 5* Bora Bora Resorts Will Produce The Wedding Of Your Dreams
I have been going back and forth with the hotel. Now, they aren't even allowing us to use the photographer of our choice. I'm outraged and still in the process of trying to work this out with them. I wish I would had known prior to booking with them. This is really ruining our special occasion.
The Bora Bora resort * was absolutely no help and just kept sending generic form letters back to answer my questions. Ultimately they just kicked me over to the concierge since we won't have any food/guests.

The above were a couple who considered bringing me into their Bora Bora resort to officiate the ceremony they wanted, a personalized, bespoke ceremony that would be true to them. But they weren't allowed to do so. They weren't allowed to bring any other wedding vendors of their choice and had to stick with the resort's wedding menu and contracted vendors. They were left disappointed to say the least, and eventually did not have the wedding ceremony and experience they envisioned.
Most recently, a bride of mine reached out saying the following :
I was excited when I came across your website. We have dreamed of having our wedding in Bora Bora for years. Starting to work with the Bora Bora resort * regarding day of arrangements, we realized we want our own traditions versus the Polynesian traditions. (Absolutely no offense to the Polynesian culture, we are just more of a simple, modern couple.) I connected with how personal you make the ceremony. How very special that would be! […] As of now, we have not been asked once by the hotel about our vision. It has more been a 'check the box if you want this' type of scenario. I would appreciate having someone there who can check on things, if need be.

Turned out, initial wedding plans made with the Bora Bora resort * were totally off the couple's vision and wishes. Wrong style, wrong colors, wrong everything. But how would they know, without asking what the couple wanted? I worked hand-in-hand with the resort's coordinator, and we adjusted plans to match the couple's vision perfectly. Hooray!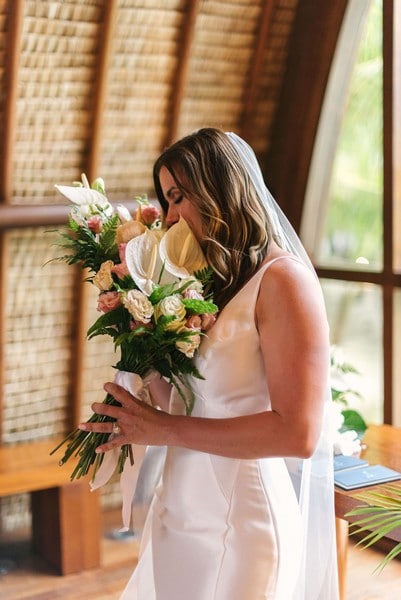 Photo Credit : Neubek Photographers
Mistake 3 of 3: Not Accounting For The Higher Costs of a Wedding in Bora Bora

Bora Bora is gorgeous, and isolated, too. This one's not really your fault as this is probably your first time planning a wedding in Bora Bora (and we hope the only time, next time we want to see you renew your vows in Tahiti!) but wedding services come at a cost, anywhere. In Bora Bora wedding services come at an even higher cost because nothing is readily available on the island. Think beautiful flowers are blooming all around? I'm sorry to break the news but this is not the case, and most flowers you'll want in your bouquet or bouts are imported from New-Zealand to Tahiti, and then they need to be flown to Bora Bora, unless you go the standard, tropical flowers' route.
On top of that, because we're talking luxury resorts, big names, there will be a price tag attached to pretty much anything… and most things you would not even think about at the time you book your Bora Bora resort: there's a cost for holding your ceremony at a specific location in the resort, a cost for spreading flower petals in the sand, a cost for taking you to the ceremony in an outrigger canoe, a cost for adding chairs if you want to seat your witnesses or guests… this adds up quickly so it is important that you review the wedding menu or romantic services list to get an idea of approximate costs you should budget for the wedding day before you book your resort in Bora Bora.
I wrote an article on this very topic that lists how much a wedding should cost in Tahiti when you have the flexibility to choose your vendors.
I was getting very frustrated and disheartened planning our wedding with the big resorts before I found you. You helped us come up with a plan that was best for us in so many ways and I truly appreciate it.

To sum it up, if you are contemplating a wedding in Bora Bora, choose your resort wisely, and better yet: reach out to me first so we can work together on making your Bora Bora wedding exactly the way you want!
Other articles that may be of interest to you:
Wanting To Elope In Bora Bora? All You Need To Know
Why We Chose To Do Our Bora Bora Photos Off Our Resort
Jack (or Jill) Of All Trades, Master Of None – Stop Calling Yourself a Wedding Planner : Pro Insights Series
How To Choose Your Officiant In Tahiti If You're Eloping
* resort names not disclosed intentionally 
** last updated on June 1, 2021 **
Will You Marry In Bora Bora ? Do You Want Me To Write A Personalized Ceremony For Your Wedding or Vow Renewal in Bora Bora? Head To My Bora Bora Wedding Planner Service Packages Here or Contact Me Here!
For more articles like these subscribe to my monthly newsletter HERE (and

Get the Free Report to pick the best Wedding Ceremony Location in Tahiti

)!