Jessica and Jake were not going to get married in Moorea. They had their wedding plans all set for a Kauai elopement, but then Covid. Comes the month of August, and Hawaii announced that the borders would remain closed. And with that, Jessica and Jake's vision of an ocean reef wedding went down the drain.
They were devastated, as were so many couples who have seen their wedding plans either cancel or postpone because of the pandemic.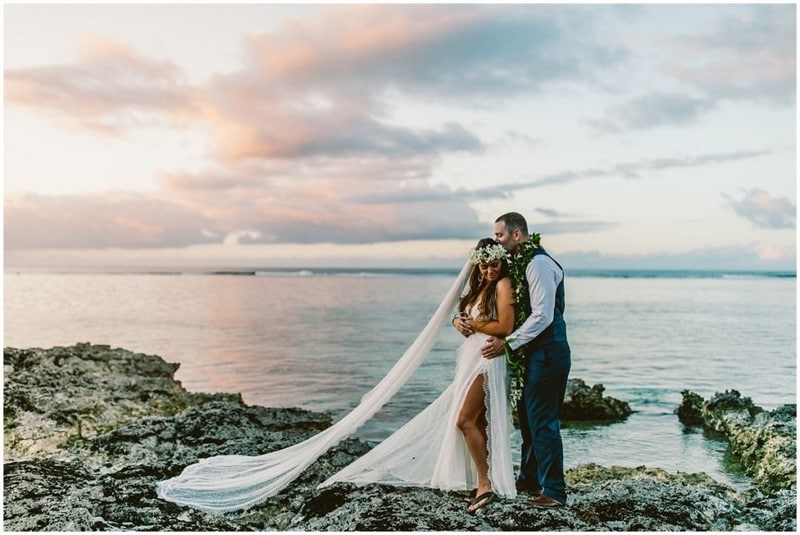 Comes the hero photographer, Meg from Bradyhouse Photographers. She and husband Pete had spent a vacation in Moorea just a few months before, right before Covid stroke. They loved the island (who wouldn't?) and so, they suggested to Jessica and Jake to book a last minute trip to Tahiti to keep their original wedding date and make it happen!
Borders in Tahiti had reopened in mid-July, and you can fly Los Angeles to Tahiti in less than 8 hours. That's about the same as flying to Hawaii from the U.S. mainland.
Jessica and Jake jumped right in, and started planning their micro destination wedding in Tahiti from the ground up. The wedding was only 3 weeks away, and that's when they reached out to me.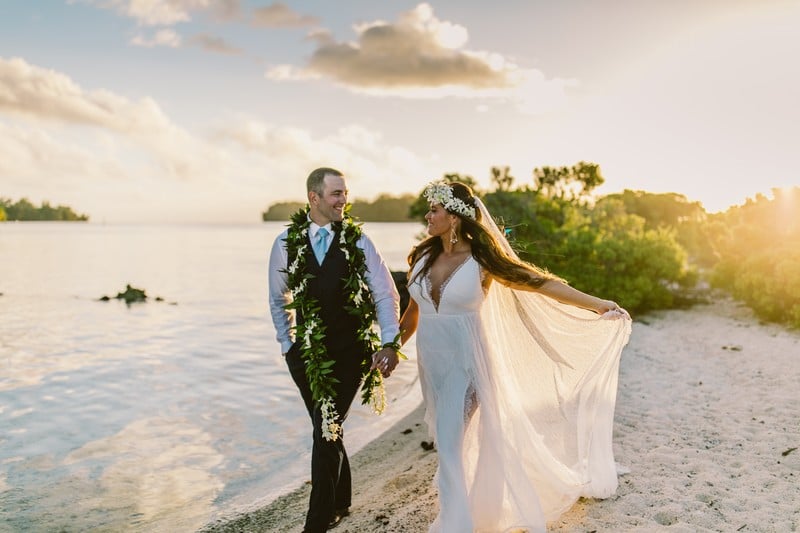 Here is part of what Jessica explained to me:
What we originally had planned is what we'd like to replicate on Moorea as much as we can. We had planned for a sunset cliff ceremony overlooking the water (love the idea being high up and overlooking the water and hearing the waves). […]
What we do need help with is not only having an unofficial officiant, recommendation for a gorgeous secluded ceremony location, recommendation for someone to do my hair and makeup, a bouquet with maybe some flowers for Jake and our two guests. We were originally having our Kauai officiant read a very authentic and spiritual ceremony. We did see the ceremony offered by our hotel in Moorea, Manava, but the traditional Tahitian ceremony did not align with what we were looking for. THEN we saw your classy website and had to reach out!

We don't have cliffs overlooking the ocean in Moorea. I am however granted access to this gorgeous islet – clearly a gem location. There I can officiate my couples' ceremonies on the reef-side when they envision an ocean reef wedding. How gorgeous and private is that?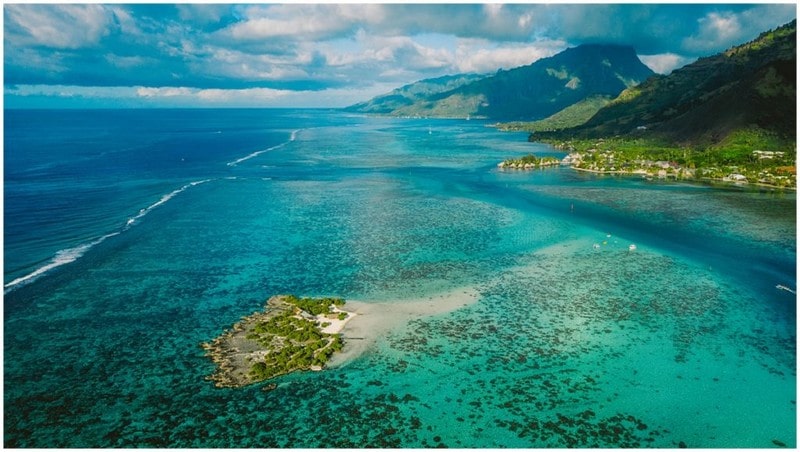 Why An Ocean Reef Wedding At Sunset Was Preferred Over A Morning Beach Celebration

My only concern with Jessica & Jake's plans was that their wedding date fell on a Sunday. While the island has been much quieter than normal during the pandemic, with way less visitors, it was still quite busy on weekends with locals crossing over from Tahiti for a quick beach gateway.
My recommendation is typically to favor a week day rather than a weekend day for the best privacy but Jessica and Jake had this date at heart.
The private islet reef-side location during golden hour was the most perfect, and one I had dreamed of using for an ocean reef wedding for quite some time. Jessica and Jake did some photos post ceremony both on the reef-side where the ceremony was held, but also on the beach side of the islet at sunset.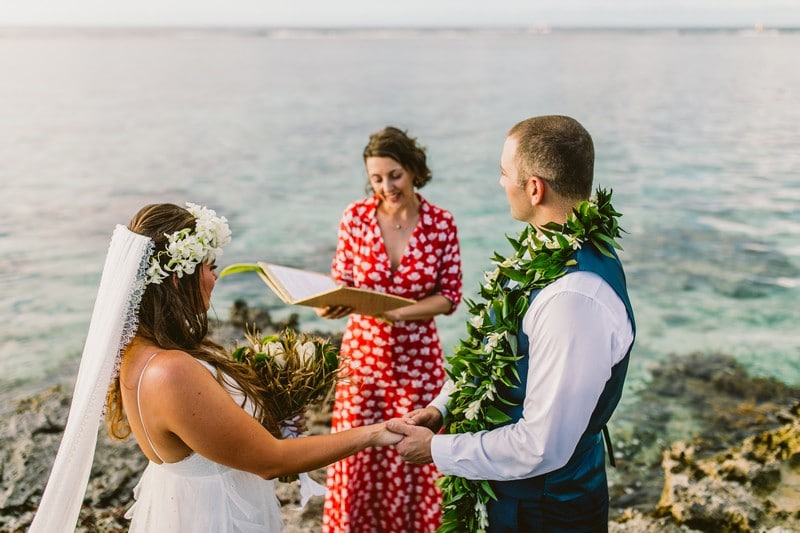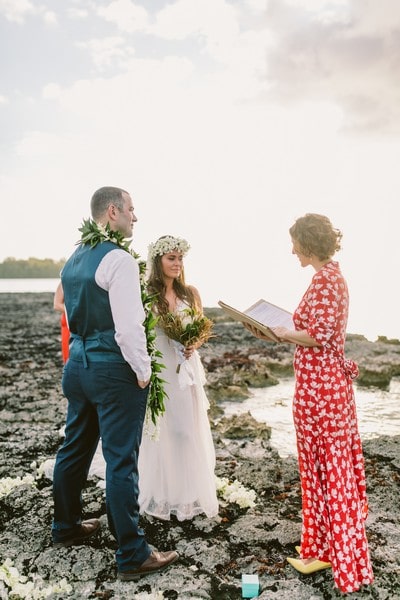 They had another photo session planned for the next morning where they went on a lovely catamaran tour, and did beach + water photos in the bright morning sun and vibrant colors, with no one to be seen around. I told you: Mondays are always quiet!

I said that before, but I am so so appreciative of my couples trusting me in developing and officiating their elopement ceremony in Moorea. In these challenging times with so many travel restrictions around the world, I felt even luckier as Jessica and Jake made the extra effort and pivoted from their Hawaii wedding plans entirely – and to be witnessing their destination do's.
Wish you the best of happiness Jessica & Jake!
See more photos of Jessica & Jake's ocean reef wedding ceremony in my gallery, and photos + video of their encore photo shoot the next day with talented Bradyhouse Photographers here.
• Moorea Wedding Planner + Officiant in Moorea: Nelly at wedOtahiti
• Wedding Photographers: Bradyhouse Photographers
• Florals: Delphine Grassone
• Hair (both days): Maryline
• Make-up (both days): Audrey Bodilis
Not Sure How To Plan A Wedding In Tahiti? Contact Me Here To Get Started With Planning Your Tahiti Wedding!
For more articles like these subscribe to my monthly newsletter HERE (and

Get the Free Report to pick the best Wedding Ceremony Location in Tahiti

)!