Kristy & Saz are from Albany, Australia. They planned a Moorea elopement back in July to have an intimate wedding ceremony on the beach on the anniversary date of when Saz proposed.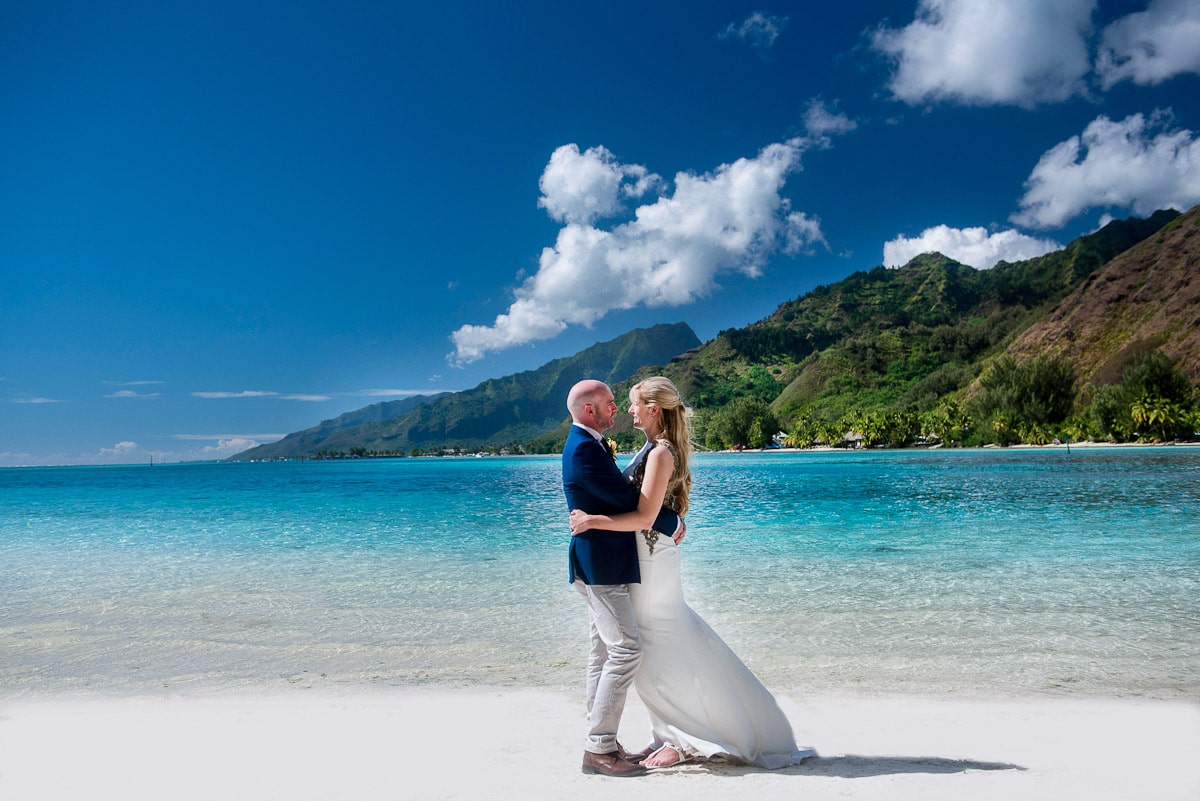 Kristy & Saz met on a plane that Kristy was hosting on. Kristy knew Saz' sister so she introduced herself to Saz and his son Tayden, asking how their holiday in Cairns was.
Saz immediately felt very relaxed and welcomed while she spoke, and noticed her warm smile every time she walked up the aisle preparing the plane for take-off. He jokingly invited her to take the spare seat next to him and says it was his lucky day, because she later came up to his row and sat down next to him.
They both remember those six hours as full of great conversation and laughs, and Saz enjoyed her company so much that he offered to take her out for a drink… which she happily accepted!
The rest is history and Kristy decided to transfer her job to Western Australia, and to move in with the boys. She put her name to the house and from then on, Saz knew that a together forever was a forever with her beautiful Kristy.
Kristy has amazingly gorgeous (and long) hair – no hair extensions! – and she wanted to keep the style simple so the stylist did some waves with a lovely hair piece. Saz had no hair so that was quick!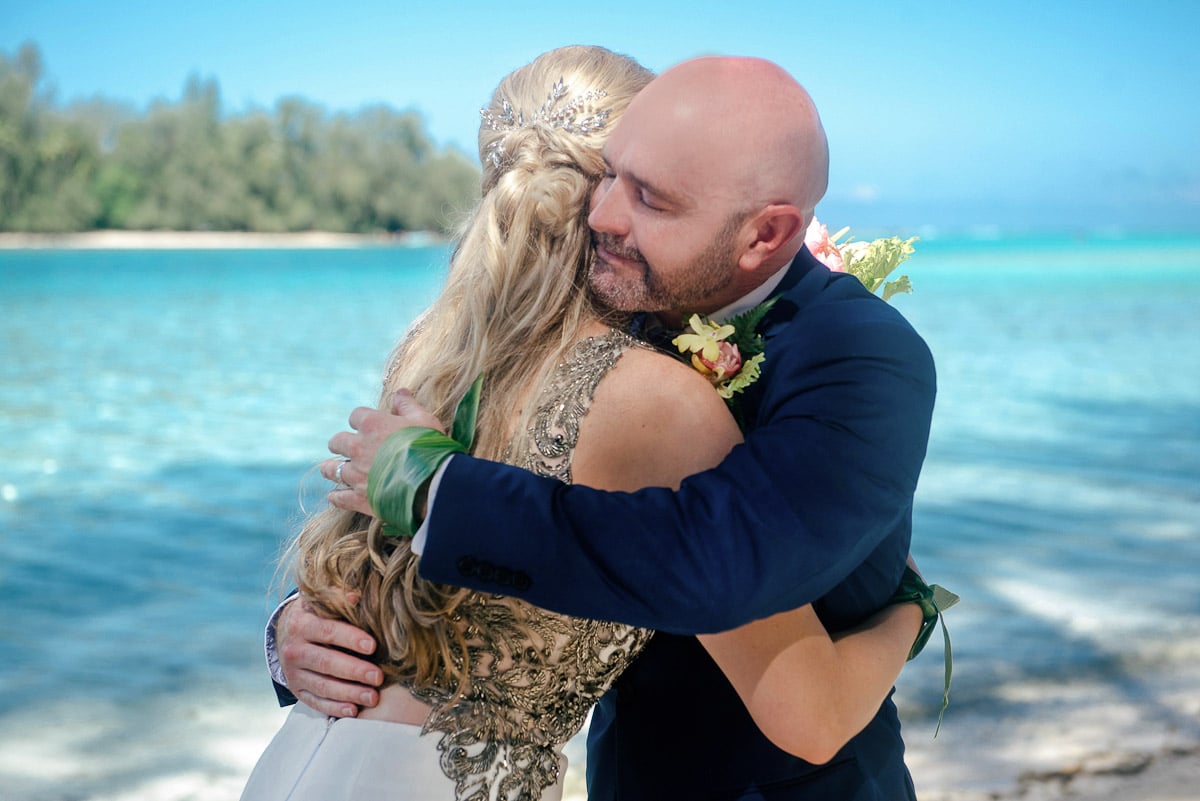 Their floral inspirations were in the shades of light pinks, whites, and creams so locally we worked with gingers, anthuriums and some orchids as well.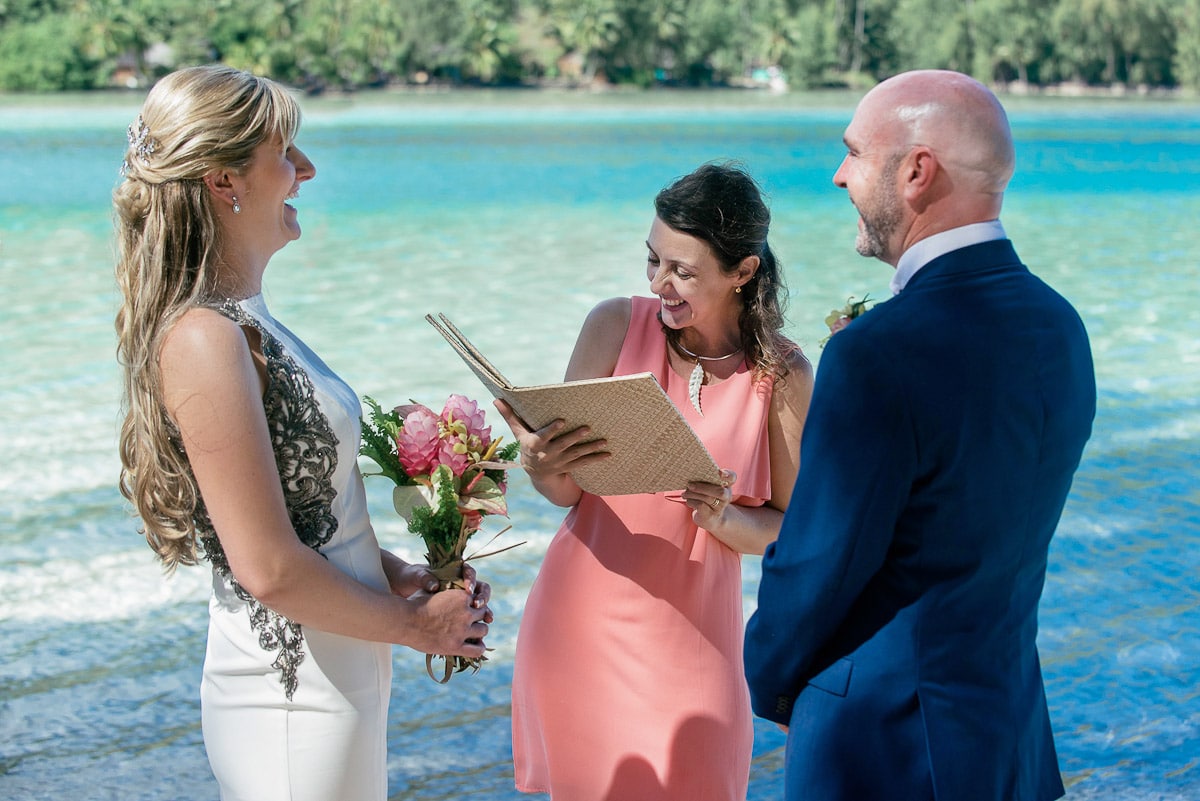 The day was gorgeous and we were fortunate to have stunning lagoon colors and a low tide revealing a white sand bar at the private islet beach where I officiated the ceremony for them.
They later ventured into the forest for some nature pictures on the way back to their resort.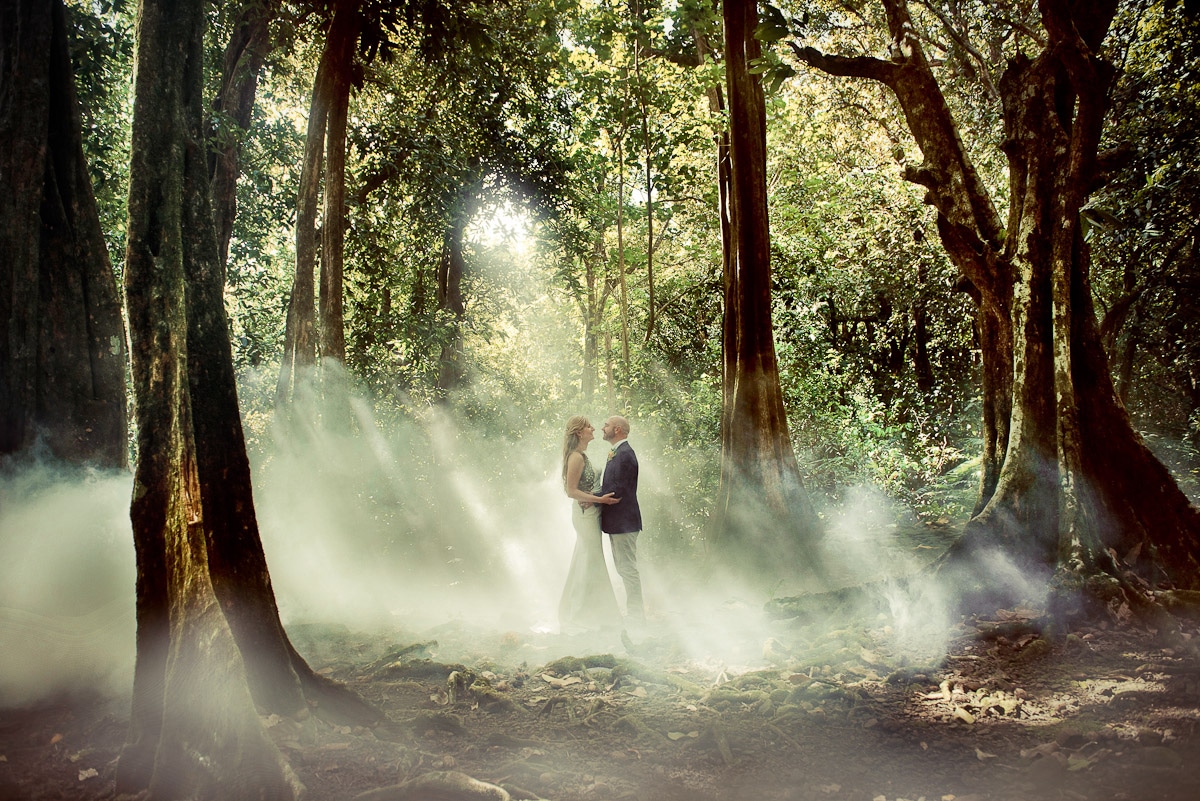 I would like to extend my greatest thanks to you for all your help with our wedding day today.
It was the most fantastic and touching thing I have ever experienced in my whole life. We are blessed to have met you.
You are a true professional.
Best wishes and much love from Australia!

• Moorea Ceremony Officiant / Life-Cycle Wedding Celebrant: Nelly at wedOtahiti
• Wedding Planner in Moorea: Nelly at wedOtahiti
• Photographer: Helene Havard
• Hair stylist: Maryse
• Make-up artist: Audrey Bodilis

Interested in how much the above wedding services cost in Tahiti? Head straight to this article to find out!
Thinking that Moorea is your place? Do You Want Me To Write A Personalized Ceremony That Tells Your Story? Contact Me Here!
For more articles like these subscribe to my monthly newsletter HERE (and

Get the Free Report to pick the best Wedding Ceremony Location in Tahiti

)!