A hand-tied bouquet looks beautiful, it is actually my favorite! These bouquets are generally prepared expertly by the florists, who use the freshest and the finest flowers. However if you know the technique, and favor local flowers vs imported ones, then you can also make a hand-tied bouquet in Tahiti with tropical flowers that can be found in the islands without too much trouble.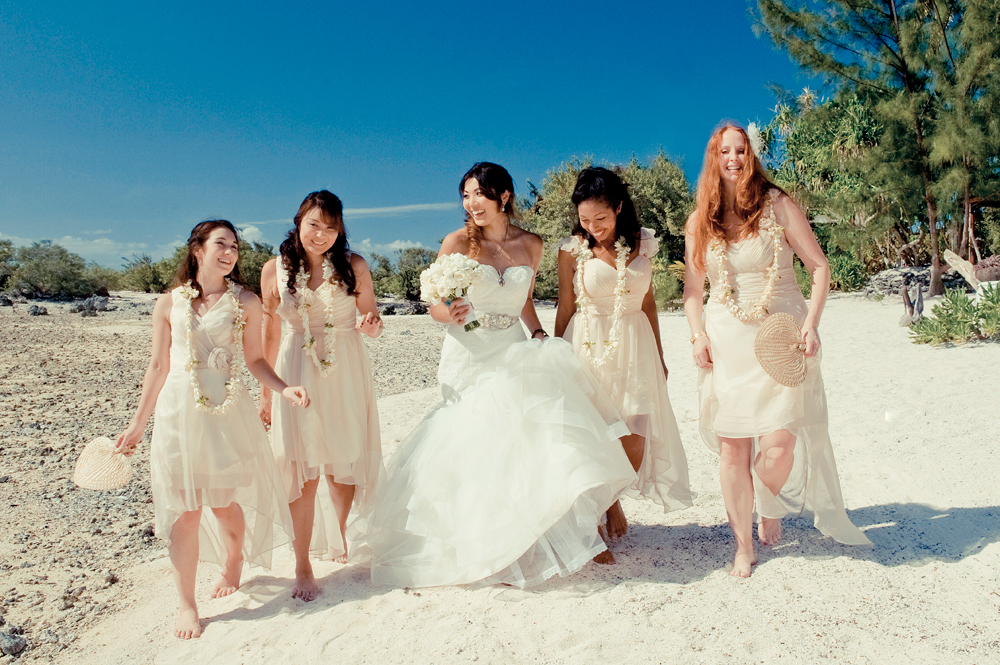 Photo Credit: Helene Havard
Here Is How You Can DIY a Hand-Tied Bouquet in Tahiti:
1. Process the flowers:
First of all, you need to process the flowers that you would be using for the hand-tied bouquet, at least a day before you start with it. That means removing any foliage that will fall below the water line in your bucket, cutting the stems slightly shorter with a sharp knife or clippers and, if you are able to bring this along with you (you won't find this in Tahiti), briefly plunging the stems' ends in an hydration product such as Quick Dip (note: this is different from flower food, and can be ordered online in most countries).
2. Remove thorns and leaves:
On the day, you need to sit with the flowers that you have chosen for your hand-tied bouquet and remove the thorns and leaves from them. This step needs a lot of patience and clarity.
3. Start with 3 flowers:
Now, take 3 flowers in your hand first. Then, gradually add as many flowers you want to attain the size and the shape of the hand-tied bouquet that you desire.
4. Make adjustments:
Now, make adjustments to the size and the shape of the bouquet. In order to understand how the bouquet would look like, hold it away and view it from various angles. If you feel it's too large, then remove some flowers. If you feel it's too small, then add a couple of flowers to it. You can also pull the flowers up or push them down to get the desired look.
5. Bind the stems:
After making the adjustments, bind the stems with a bowl tape (that is waterproof tape) so that the position of the flowers are not disturbed.
6. Cut the stems:
Now, cut the stems to a length of 8-10". Cut them straight, NOT at an angle.
7. Add ribbon:
Now, add a beautiful ribbon wrap to the trimmed stems. Choose a colorful ribbon or anything that will match your style and wedding colors to enhance the look of your bouquet.
Photo Credit: Stephen Govel Photography
8. Secure the ribbon:
It is extremely important to secure the ribbon with corsage pins or with cut down boutonniere. Decorate the bouquet handle beautifully with jewels and pearl headed pins.
9. Place in a vase:
After the embellishment, place the hand-tied bouquet in a vase filled with water. Make sure that the water covers the unwrapped portion of the stems. If by chance the ribbon gets wet, you would need to dry it with a paper towel.
10. Spray the bouquet:
Use a finishing spray to spray your hand-tied bouquet. You can use sprays such as Finishing Touch or Crowning Glory.
11. Refrigerate:
Lastly, you need to refrigerate your hand-tied bouquet after the spray has dried. However, make sure that the refrigerator is not colder than 38 degrees.
Photo Credit: Renaud Fayada

If you follow these steps with accuracy and precision, then you would get a beautiful hand-tied bouquet that will surely gain you oodles of compliments.
Other articles in the floral series:

How To DIY A Composite Wedding Bouquet In Tahiti
How To DIY Pomander Balls In Tahiti
Not sure you want to DIY your hand-tied bouquet? Ask me and I'll arrange one for you!
For more articles like these subscribe to my monthly newsletter HERE (and

Get the Free Report to pick the best Wedding Ceremony Location in Tahiti

)!