Another one of the misconceptions lots of people have about Tahiti, is the idea that your beach ceremony will be legally binding back home. In Tahiti, you don't find "licensed" Officiants / Celebrants who can solemnize marriages the same way you would in the United-States or in Australia for example. If you will want to have a legal wedding, in France, and as such in Tahiti (here we're talking about the Islands of Tahiti as a destination, so that includes Moorea weddings, Bora Bora weddings, you name it) the ceremony must take place before the mayor at the City Hall to be deemed legal, so you'd have a legal ceremony at the City Hall, and a celebratory ceremony wherever you see yourself exchanging vows. A beach ceremony alone will be celebratory only, not legal. So you'll want to find the best officiant in Tahiti to help you navigate the process.
More on a legal wedding in Tahiti here.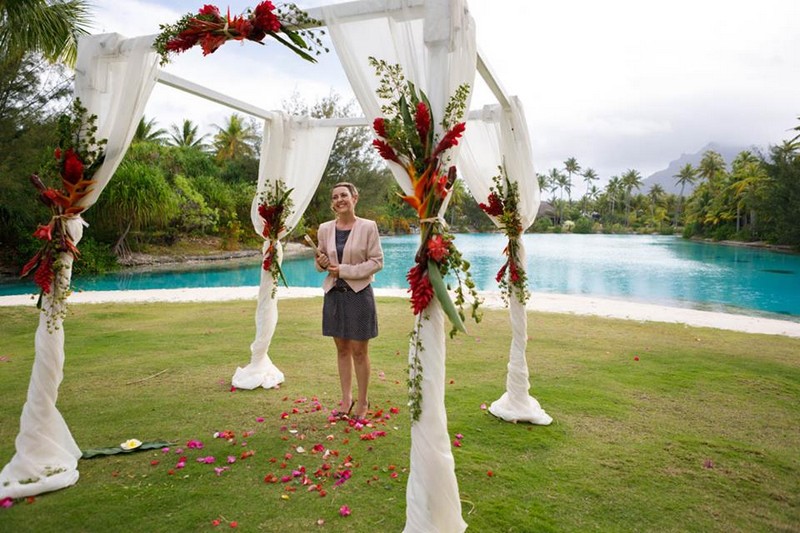 Photo Credit: Damien Gobron
(more photos of this Bora Bora elopement in the Gallery section under the 'Bora Bora – The St. Regis Resort Spa Beach' tab)

If you're up to getting legally married in Tahiti, note that there will be additional costs at home for ordering the documents, getting them stamped, translated into French and shipped to French Polynesia. So before you rush head-on and get in the process of booking a Bora Bora resort as your wedding venue, you want to make sure you've got your bases covered and have a seasoned Tahiti wedding planner to help with the legalities for a wedding in Bora Bora especially. Talking of legalities for a Bora Bora wedding, here is an article you may want to read before anything, as I touched on how some couples thought that their resort in Bora Bora would help them out with the legal requirements for a wedding in Bora Bora, only to find out that most Bora Bora wedding planners had absolutely no clue about what they were doing when it came to ensuring a wedding is legal, or were plainly uninterested.
Find The Best Officiant In Tahiti To Make It Legal Back Home

I am experienced with assisting my couples from around the world in the process and will guide you step-by-step to make it as easy on your end as possible. I can also act (or organise someone to cover for me) as one of your witnesses at the City Hall and provide for the other one, as well as be or provide the translator for the ceremony, and of course we will be taking care of getting your marriage certificates processed in Tahiti so they're valid back home. Something a resort's wedding planner or coordinator will never do, as they don't know how to (or that it's even needed!).
Of course, as a trained and certified Life-Cycle Celebrant I'll be happy to develop and write a personalized celebratory ceremony that recognizes your unique personalities, tells your story and that makes your vision of the ceremony come to life.
While based on the island of Moorea, I have officiated weddings in Bora Bora a number of times (like for this Canadian couple pictured in this article, whom I planned both their legal wedding in Bora Bora and a personalized ceremony of a Western-style back to their resort for). I have also worked legal + beach weddings in Taha'a, and in Rangiroa, too. While Moorea is the best place to get married and my couples' #1 choice to hold the wedding ceremony at (it is also the easiest and the most cost effective given that wedding vendors are available at close proximity), I am always happy to plan for a wedding in any other Tahitian island, and to meet you even in the most remote place!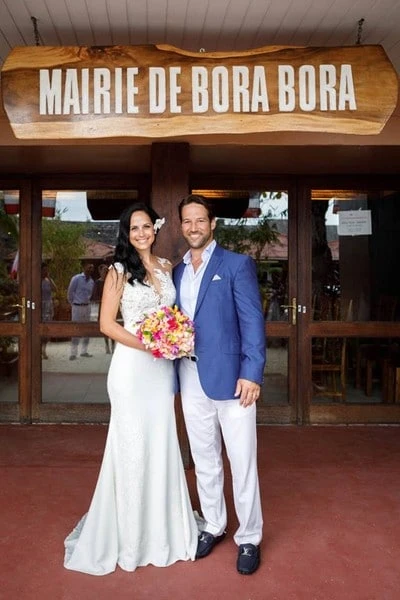 In case you are contemplating to elope in Bora Bora or in Moorea, and to book your elopement wedding at your resort, read this first, so you are better prepared when it comes to budgeting for the day.
More on this topic here:

Wanting To Elope In Bora Bora? All You Need To Know
Important Things To Know About Your Officiant In Tahiti
What You Need To Know If You Want A Church Wedding In Tahiti
Wedding Regrets: Not Hiring Wedding Professionals
** last updated on June 1, 2021 **
For more articles like these subscribe to my monthly newsletter HERE (and

Get the Free Report to pick the best Wedding Ceremony Location in Tahiti

)!