Together we can create the wedding ceremony
or vow renewal ceremony you want for your Tahiti elopement
As a seasoned elopement wedding planner, I specialize in small and intimate ceremonies for couples eloping in Tahiti. I'll develop and write a personalized ceremony that recognizes your unique personalities, tells your story, and brings your vision of the ceremony to life.
Back when I started running my business, I identified a need for bespoke ceremonies of a Western-style for those couples not willing to settle for the one-fits-all (template) ceremonies of a Tahitian style offered in the resorts.
I trained and graduated with a diploma in weddings from the Celebrant Foundation & Institute in the United-States, and I became the very first (and the only) professional wedding officiant in Tahiti, a Life-Cycle Celebrant®. With years of experience in special event planning in the Tahitian islands you won't find a better planner in Moorea to help you create the personal ceremony you're seeking for your Tahiti elopement.
Dreaming Of A Tahitian Wedding? Watch This Video Of Past Tahiti Elopements:
Unique wedding ceremonies
in Moorea that evoke laughter,
and happy tears through meaningful and heartfelt storytelling.
In an ever-changing world, flexibility is key. That especially holds true when international travel is involved. You want the assurance that there will always be that reliable someone to answer all your questions promptly, and to handle your vendors' bookings for you.
Does the idea of meaningful travel – or slow travel hit home when you think of your elopement experience in Tahiti? Are you seeing this elopement trip as a special time to connect with one another on a deeper level? Are you a believer that quality experiences must prevail over cookie-cutter ones? You're in the right place.
There are no two couples alike, and there are no two Moorea or Bora Bora elopements alike. I have written this guide on how much it costs to elope in Moorea, if this can be helpful to you in deciding between a Moorea elopement and a Bora Bora elopement.
Whether you are about to elope to get married on a beach in Moorea, or celebrate a wedding anniversary, renew vows, make memories to commemorate a special milestone in your journey as a couple with a commitment ceremony, I make sure the words spoken by my officiants on the team, the vows exchanged, and the overall flow and atmosphere perfectly reflect not just your beliefs but your vision too.
Should your wedding plans change overtime, you are guaranteed to receive the assistance you need.
In Moorea, we can take you to private islet beaches, up the mountains to majestic lookouts, or anywhere in the lush nature of the island (in the pineapple fields, in the tropical forest…).
Empty beach in the wee hours when the first rays of the sun rise? Glorious sunset as the backdrop?
Whatever you choose, I'll make sure your love story is at the center of your celebration.
Have a vision for your ceremony in Moorea? I want to hear all about it.
I'll come to our e-mail correspondences or video calls with no agenda. I never template my ceremonies.
And I don't fill in the blanks, or have someone show up a few minutes before your ceremony and read a one-size-fits-all text.
I am deeply committed to creating a wedding ceremony that is memorable, true to your personal story, and uniquely crafted for the couple in front of the officiant.
I am a proud ally of the LGBTQ community and supporter of Marriage Equality. I have a contemporary perspective and always advocate for my couples, regardless of their gender or sexual orientation.
In France, and as such in Tahiti, a marriage ceremony must take place before the mayor at the City Hall to be deemed legal, so if you want to get legally married in Tahiti, you'll have to have a legal ceremony at City Hall, which I can help you with too, and a celebratory ceremony I help you facilitate wherever you see yourself exchanging vows.
My Tahiti elopement packages (Tahiti wedding packages for two) vary to include your specific preferences regarding the ceremony: whether that is a Moorea elopement, a Bora Bora elopement, if you need a celebratory ceremony only, or if you are also looking at getting legally married in Tahiti – whatever the vision of your Tahiti wedding ceremony and whatever the island/place, you want to hire the best wedding planner in Tahiti. 
It is important to me to give back to my community, so for every ceremony booked with me a percentage of my fees will automatically go to one of two local non-profit organizations:
1. Moorea Coral Gardeners (reef restoration and conservation)
2. Eimeo Animara (caring for stray animals and finding them forever homes).
Where Will You Be Holding Your Tahiti Elopement Ceremony?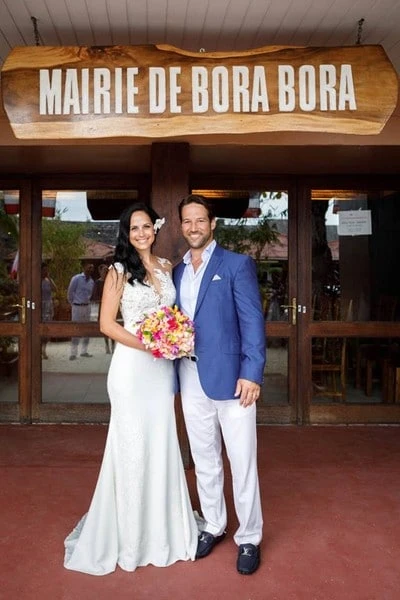 Our Past Elopement Couples Say It Best!
Here are some reviews' snippets from happily married couples who shared their experience of eloping in Moorea and getting legally married in Tahiti as well (full reviews can be found here):
Elopement in Moorea ~ Anya and Thaddeus
We just got back from our elopement trip to French Polynesia and Nelly was absolutely wonderful all around! Couldn't have done it without her! She is very kind, professional, extremely attentive to details and made sure our special day was everything we envisioned to the finest details!
Elopement in Moorea ~ Vicky and Ruben
Nelly was great and very patient with all of our questions and decisions, especially with all the paperwork to get us legally married. She knows everybody on the island and made our path very comfortable and unstressful.
Elopement in Moorea ~ Danny and Ashley
The process of organizing to marry in Moorea, French Polynesia from Australia was made very smooth thanks to Nelly, she was prompt, friendly, efficient and professional. She was there to help with anything and everything from start to finish (from paperwork to flowers) and we couldn't have done it without her, she goes above and beyond to help you and is definitely value for money.
Not to mention she is also genuinely lovely and we felt lucky to have her marry us as well (on a private island she organised for us). If you are considering a wedding in the French Polynesia, do so with Nellys expertise, it's not worth the risk of having to deal with the variables / attempt communication / things in general going wrong if you do it alone.
Let me help you plan a stress-free destination wedding in Tahiti. Click the button below to get started.
Don't Want to Settle for a Cookie-Cutter Resort Package for Your Ceremony?
Download Your FREE eBook Copy Now to Pick The Best Location for a Unique Ceremony in Tahiti!
Don't Want to Settle for a Cookie-Cutter Resort Package for Your Ceremony?
Download Your FREE eBook Copy Now to Pick The Best Location for a Unique Ceremony in Tahiti!
Photos © Steven Govel | wedOtahiti | Kate Webber | Olivera Photography | Damien Gobron