Alora & Christopher are Australians, and they decided to elope to Moorea this past March.
It all started with :
As long as it's on a beach with a great back drop I'll be happy 🙂

some 15 months before the wedding date, can you tell Alora is the super organized type of bride?

Alora admits that she fell in love with Christopher the minute she met him; his amazing eyes just made her heart melt, and they still do every time she looks at him. Christopher quickly realized how strong and caring Alora was, and how alike the two of them were in so many ways, and totally fell for her.
Some day, Christopher heard a rumor that Alora wanted to propose to him… damn! He had been planning to propose so he had to get in first!
So on their first anniversary, he took Alora back to Nelson Bay where the two of them had spent their 6 months celebration, and put together a photo album reminiscing the past 12 months of their relationship, along with his proposal written at the end… he knew he would have balled his eyes out if he tried to say it, and there he was, as she walked out of the bedroom, surrounded by hundreds of tea light candles, down on one knee with her ring waiting, and crying. Of course she said "Yes!"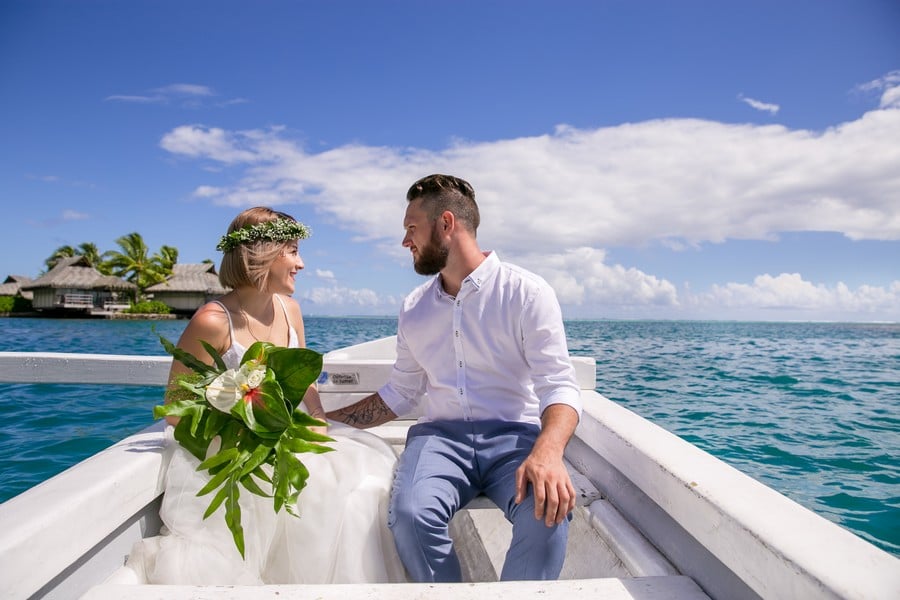 March 7 Was A Gorgeous Day in Moorea!

I mean, everyday is a gorgeous day in Moorea but this was the most perfect day!
These two are the most fun and outgoing people, it was such a pleasure to take care of them throughout the day… we started with Alora's hair & make-up in their bungalow, helped a bit with Christopher's hair, too! and then headed to a private beach for the most intimate and emotional ceremony, ever!

Alora & Christopher then drove into the interior of the island to do more photos with Jean-Philippe Yuam, all surrounded by the magical landscapes Moorea has to offer.

I wish you many many years of happiness with your little Layla, and, as Christopher said:
I could give you the world and spoil you in every way but I'd be happy with growing old, staying happy and in love. I don't need a million dollars I just need you two dorks by my side and happy till the day I kick the bucket!

We wish you just THAT, many many years of hapiness as a loving family.
More photos of this lovely wedding in Moorea here.
• Officiant / Life-Cycle Wedding Celebrant: Nelly at wedOtahiti
• Wedding Planner in Moorea: Nelly at wedOtahiti
• Photographer: Jean-Philippe Yuam
• Make-up: Audrey Bodilis
• Hair: Maryse
Do You Want Me To Plan Your Elopement to Moorea? Contact Me Here!
For more articles like these subscribe to my monthly newsletter HERE (and

Get the Free Report to pick the best Wedding Ceremony Location in Tahiti

)!