Unity Ritual Series : Ideas For Your Ceremony In Tahiti

I'm all for personalized ceremonies, y'all know it!
When I work and develop your ceremony in Tahiti (read more about my bespoke ceremonies here), in addition to incorporating your love story and to write a ceremony that feels true to your couple, I like to always add a unity ritual.
While I often do a wrists tying with a Ti leaf, a plant sacred to Tahitians that gives your Western-style ceremony in Tahiti a local feel / special Tahitian touch, there are plenty of different unity rituals to choose from.
Unity Sand Ceremony In Tahiti
One that works very well for a ceremony in Tahiti and especially in the outdoors, is the Sand Ceremony more commonly called the Unity Sand Ceremony.
Much like a unity candle that you're probably familiar with, a unity sand ceremony symbolizes the two families merging together through the joining of the couple in marriage. The way it works is that the couple pours sand of two different colors – I like to do white & black sand of Tahiti, or we can do pink and black sand as well using pink sand from the Tuamotu atolls – into a common vessel; this is symbolizing the blending of the two individuals into an inseparable union that is their marriage.
Then, when you have guests attending the ceremony, we can also have them come and pour some more sand into your vessel, symbolizing the importance of their presence on the wedding day.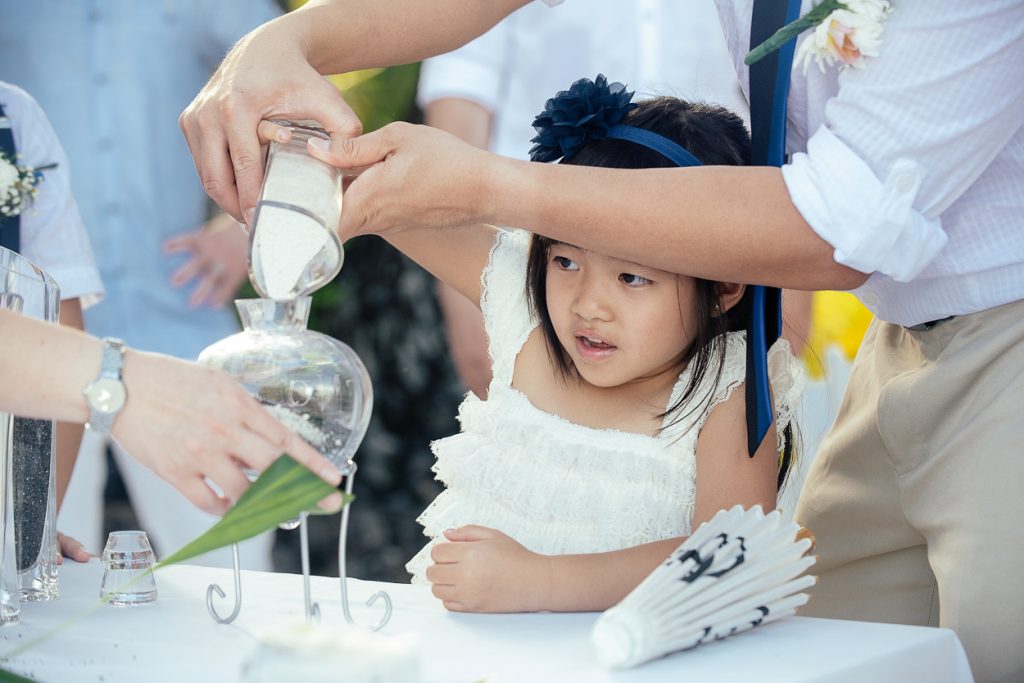 The cool thing with a unity sand ceremony in Tahiti is that it works wonders in the outdoors and is not too difficult to manage even with a light breeze, you can choose your own colors if you'd like, and this is a lovely memento to bring back home and to keep.
(with this type of sand ceremony kit you can actually frame photos of the day on each side, kinda cool, right?)
My recommendations for a unity sand ceremony in Tahiti is that you make sure that the sand is perfectly dry (if you think of collecting the sand on the beach the day before or the morning of for example, it is likely that there will be some humidity in it and it won't pour well into the vessel) – if I'm doing your ceremony in Tahiti I'll of course provide dried sand for you, and also that whatever sand ceremony kit you'll be using, the main vessel can be hermetically sealed to transport safely back home in your suitcase… you wouldn't want the sand to spill all over your clothes and the lovely sand design to be lost forever.
All photos above from Helene Havard
Today you join your lives together
Promising to walk side by side
Heading in the same direction
Into your future.

You promise to carry each other's hearts
In the palms of your hands
With tender loving care
As you journey through the trials and triumphs of life
That lie ahead of you.

Now, take your individual vessels of sand
Representing your lives from birth to this day.
[couple starts pouring the sands]

As you pour them into the central container
Representing your shared union,
You are symbolically blending your individual lives
Into a marriage partnership –
Walking the road of life together
From this day forward.

Just as these grains of sand can never be separated,
So too may you be united in love
For the rest of your lives.
More Unity Ritual Ideas For Your Ceremony in Tahiti:
Or… how about imagining your own ritual?
Thinking That A Personalized Destination Wedding Ceremony In Tahiti Is For You? Contact Me to Get Started!
For more articles like these subscribe to my monthly newsletter HERE (and

Get the Free Report to pick the best Wedding Ceremony Location in Tahiti

)!