Anya and Thaddeus live in San Diego, California. They decided to elope in Tahiti, and to hold their ceremony in Moorea on their 5th anniversary day. They knew they wanted to get married legally at the city hall (they had already read up on all the paperwork involved) as well as have a ceremony in a beach setting. These lovelies were looking for a western type ceremony. Lastly, great photographs and video were very important to them to preserve precious memories.

Thad's online profile described how he believed in happy, positive outlook on life which resonated with Anya. Plus, she thought he was extremely handsome! When she messaged him to offer to grab a coffee, he felt intrigued but at the same time thought that something was potentially off… this beautiful girl only had two pictures on her profile, and very little information except that she was finishing her PHD degree at the local university.
Was she for real? Curiosity got the best of him so he decided to respond back a few hours later, and when they eventually met at The Patio on Lamont, a local bar, he was so pleased to see that she was in fact, the person in the photos!
Thad was Anya's first and last online date. She says she got very lucky.

Thaddeus admits that based on just the initial meeting at the bar, he's not sure he would have hung out with her again. Conversation was great, but he was a little hesitant given that she barely drinks any alcohol, and he was not interested in a girl who would not want to drink with him.
Anya happened to live just across the street from Thad, and she accepted his invitation to stop at his place on her walk back home. They ended up staying up for hours, talking late into the night. This changed everything, and Thad then realized she was someone he really liked, and now he wanted to see her again.
When they next met to spend a night at a drive-in movie theater, not only did Anya look AMAZING Thad says, but she showed up with a bottle of Bourbon as a present for him, and Thad just thought… we have a winner here!
And she smelled fantastic.
So who got very lucky?

Anya and Thad's ceremony in Moorea was to be held on July 24, the date they met for the first time at the bar 5 years earlier.
With everything that happened in 2020, stay-at-home orders, travel restrictions etc. Anya and Thad were about to give up on their ceremony in Moorea, and to reschedule to 2021 instead.
Luckily, borders in Tahiti reopened on July 15, so they just had to switch airlines as theirs was not yet resuming flights, and here they were, on the first flight from L.A.X. to Tahiti on July 17!
Did you know that you can fly Los Angeles to Tahiti in less than 8 hours?
With Anya being born in Russia, she could not get her paperwork done and shipped to the U.S. amidst all the Covid chaos for the legal wedding in Tahiti. They did however hold their ceremony in Moorea as planned, on a private islet at sunset.
Why Did They Hold Their Ceremony In Moorea At Sunset Rather Than In The Morning?

Anya and Thaddeus wanted to hold their ceremony in Moorea in the afternoon, closer to sunset time, in order to then enjoy a private beach dinner + movie night on the beach.
Anya had seen a photo I had posted on my Instagram of a newlywed couple watching their favorite movie on the beach, much like you'd do at a drive-in movie theater… but, with the lagoon in the background.
This was reminiscent of their 2nd date, so that's what they did!
Bonus, we did a bonfire on the beach, which added to the romantic setting.
Anya and Thaddeus said
the movie night was out of this world experience!

The private islet beach-side location during golden hour was the most perfect. Anya and Thaddeus did some photos post ceremony both on the beach-side where the ceremony was held, but also on the reef side of the islet at sunset.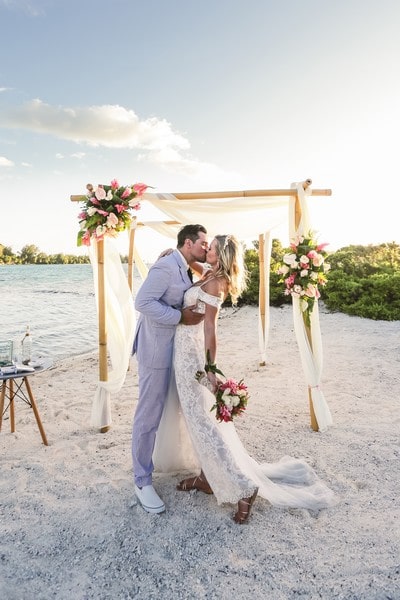 In these challenging times with so many travel restrictions around the world, when most couples were rescheduling their elopement – I felt so lucky that Anya & Thaddeus chose to stick to their plans to elope in Tahiti – and that I was there to witness their destination do's.
Wish you the best of happiness Anya & Thad!
See more photos of Anya & Thad's beach ceremony in Moorea at sunset in my gallery! Their video is also available when you click on the "video" tab in the gallery.
• Moorea Wedding Planner + Officiant in Moorea: Nelly at wedOtahiti
• Wedding Photographer + Videographer: Olivera Photography
• Flowers: Florever
• Wedding altar: Weddings in Moorea
• Hair: Maryline
• Make-up: Audrey Bodilis
Do You Need Help With Planning Your Ceremony In Moorea? Contact Me Here To Get Started!
For more articles like these subscribe to my monthly newsletter HERE (and

Get the Free Report to pick the best Wedding Ceremony Location in Tahiti

)!