Back in December, I was lucky to meet one of my couples in Taha'a, which is also known as the Vanilla island, to celebrate their destination do's. April & Martie traveled from Ohio, Central U.S. to the Islands of Tahiti. They opted to stay off the beaten paths at luxury Le Taha'a Island Resort & Spa, located on eponymous (and secluded) Taha'a island and to hold their Tahaa wedding right there.
Photo Credit : Le Tahaa Island Resort & Spa

The resort is ideally situated on a private islet ("motu") just across from the main island of Taha'a on one side, and boasts the most perfect view of Bora Bora on the other side.
Photo Credit: Le Tahaa Island Resort & Spa
I flew in the morning from Tahiti to Raiatea, sister island of Taha'a where the domestic airport is located, and caught a taxi boat to the resort. A 30 minutes or so boat ride to paradise.
Martie said that the first time he met April, it was like coming home for the first time. There was a warmth and a closeness that he couldn't explain. There was an ethereal connection, a love that truly transcended space and time… like he fell for her way before he actually met her… and she felt just the same way.
The sky was very cloudy as I arrived at the Le Tahaa Island Resort & Spa, and in all honesty, although the sky can clear up real quick in Tahiti and I am typically the optimistic one, there was very little chance of a sunny sky that day and I could see a tropical storm coming to us (read more here).
We had initially planned to hold the ceremony on the resort's tiny sand islet with April & Martie being taken to the ceremony by outrigger canoe. The lagoon however was very choppy and this would not be a safe and covered area, so we decided to move the ceremony under the resort's beach gazebo, right by their beautiful Spa.
I won't be lying, the logistics to get to the ceremony site under the rain without getting soaked to the bone were not easy, as the overwater bungalows at Le Taha'a are not accessible with their golf carts… so we grabbed umbrellas and off we went! The staff at the resort has been super helpful throughout the day and in the end, it was just how it was meant to be…
Despite The Weather, April & Martie Had The Tahaa Wedding They Dreamed Of: One Intimate And Very Emotional Ceremony

No matter the rain, April & Martie married each other on December 2, 2016, and this is what's most important!
They had been on the path to one another for much longer than they've even been aware, and on this day they shared vows and made promises to each other.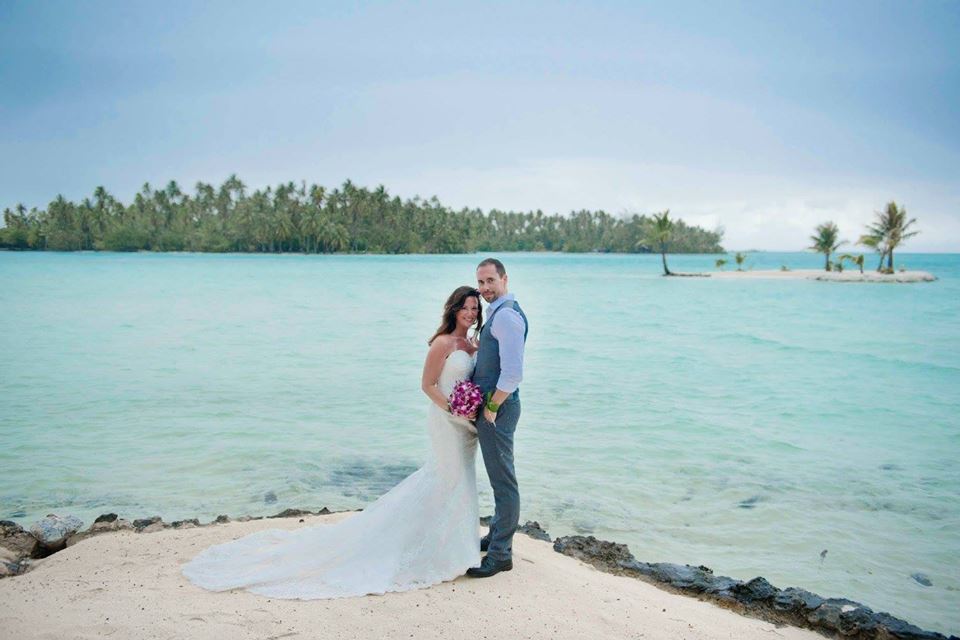 Photo Credit: Helene Havard

We later headed to Tahaa City Hall of Tapuamu, which is conveniently located minutes away from the resort's shuttle dock, to solemnize their legal wedding in Tahaa.
Thank you so much April & Martie for trusting me with your wedding in Tahaa, you are a beautiful and loving couple and I was really honoured to meet you and arrange your Tahaa wedding.
Taha'a is a gorgeous island and a fantastic option for an intimate celebration… so go for a Taha'a wedding, it won't disapoint!
• Officiant / Life-Cycle Wedding Celebrant: Nelly at wedOtahiti
• Wedding Planner in Tahaa: Nelly at wedOtahiti (with the precious help of Stéphanie & Noémie at Le Tahaa Wedding & Honeymoon desk)
Interested In More Incredible Wedding Locations In Tahiti? You May Want To Read Those Articles:

How About A Rangiroa Wedding: Selected Best Tahiti Wedding Locations
3 Wedding Ceremony Locations In Tahiti You Would Never Think Of
Do You Want Me To Write A Personalized Ceremony For Your Wedding In Tahaa ? Contact Me Here!
For more articles like these subscribe to my monthly newsletter HERE (and

Get the Free Report to pick the best Wedding Ceremony Location in Tahiti

)!