Back 2 years ago, I started a series of interviews of my preferred wedding vendors in Tahiti, all those amazing people I am lucky to work with. Audrey is my go-to make-up artist in Tahiti Moorea and she's totally amazing!
Whether you're eloping to Moorea (see here for ballpark costs for each vendor in Moorea) or you have a full destination wedding in Tahiti and an entire bridal party requiring a make-up done, she'll handle. This girl knows what will work best with your style and exclusively uses top quality Make-Up For Ever products that will withstand under a tropical climate and of course, won't run out with a few tears (or a trash the dress in the lagoon of Moorea)… yup your make-up will totally be happy-tears' proof.
With these blog interviews, I want to bring the very best people to you. I've worked with these individuals, and would refer them to anyone of my couples without hesitation. Not only do they have super friendly and inspiring personalities (because hey, you'll be traveling a heck of a lot of miles to get to us, and you only want happy and dedicated people to surround you on your wedding day in Tahiti, your own dream team of sorts) but I've also spent (wedding) days with them, and seen their work on numerous occasions, so I can attest of how good it is!
Make-Up Artist In Tahiti – Moorea
AUDREY BODILIS
This month's wedding vendor interview is Audrey Bodilis, the most fantastic make-up artist in Tahiti (based on the capital island of Tahiti) who has a very impressive portfolio, including musicals, TV shows, fashion shoots for international magazines, celebrities and of course, all of my happy brides. Enjoy!
1. Tell us a bit about yourself and how you got into doing make-up in Tahiti.
I was born from a mother who is an artist (painter), and a father who is a florist, so I was raised surrounded with brushes and colours. After I graduated with my A-level I decided to turn to the cosmetic world and then to specialize in make-up art by entering the Make Up For Ever Academy in Paris in 2005. I have since then evolved in various areas of the industry: TV, fashion, music, musicals, cinema, coaching… make-up is above all an artistic relationship and one of trust between people, which I aim to share with both my industry partners and my private clients. I work with a lot of producers in the Pacific area, and also offer a selection of private services to individuals in Tahiti: make-up tutorials, theatrical make-up & body painting, make-up for special occasions and wedding make-up.
2. How do you work with a bride and what is the process of planning a wedding make-up?
I like to meet up with a bride-to-be to get to know her personality. To me there is no standard in wedding make-up. On the wedding day, the bride must be gorgeous but it is important that she wears a make-up that reflects her personality, whether her look is natural, glamorous or sophisticated. This is the reason why I recommend doing a trial ahead of the wedding day whenever possible, to determine what make-up magnifies the bride, according to her morphology and her character traits. The goal is not to transform a person but to magnify one. I also extend preferential rates for the bridal party so meeting up with the bride in advance allows to work & schedule appointments for the wedding day. I meet the bride where she stays, so there is no stress or hassle on the day.
3. What inspires you? Are there colors or trends you absolutely love?
Everything inspires me, whether that is a painting, a photo, runways, even a landscape or animal patterns. I have worked in the fashion industry for a long time, so I am always keeping up with the latest trends, especially for make-ups. However to me fashion has its limits, not everything can be pretty so I also favour harmony. This is why I have basics for every flesh tone. I was lucky to work all around the world, and I know what works best for every ethnic group. I love particularly to highlight the eyes and work light on the lips, while also concentrating on the colouring and foundation, which is what makes a good make-up.
Photo Credit: Sadry Ghacir
4. What's your favorite part of the job as a make-up artist in Tahiti Moorea?
Meeting people. I feel very lucky to work with both the industry and individuals. Traveling the world with musicals, Miss France committees, or celebrity singers was an amazing life – and artistic – experience. Being in the backstage of a TV or a fashion show, gives me as much pleasure as seeing the smile of a bride on her wedding day. These are two different worlds and this is what I love about the job, being able to serve different people with the same passion.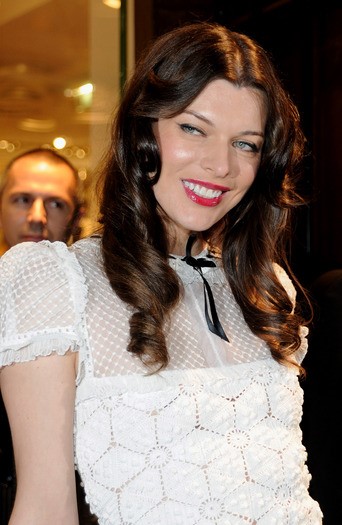 5. Any advice to pass along to a bride in choosing her wedding dress, props or wedding style?
I would tell her to listen to her heart. I am not married, however like every woman I have affinities with a clothing style, or certain ambiences. Your wedding day is the one day when it's all about yourself and you can indulge yourself, make your dreams come true. My advice is to go with your favourites, and not let yourself be influenced with trends or stereotypes. Your choice of a wedding dress, like your choice of make-up, must match your personality. Don't go overboard. Try to find a good balance between elegancy and a natural look, so that your dress, your make-up, and your jewellery are harmonious.
Photo Credit: Helene Havard
Tiffany & Sean's photos here under the 'elopements' tab
Thanks Audrey! For more about Audrey Bodilis, please contact me or head straight to her website
For more articles like these subscribe to my monthly newsletter HERE (and

Get the Free Report to pick the best Wedding Ceremony Location in Tahiti

)!
Top & Middle Photo Credit: Audrey Bodilis