Contrary to popular belief, flowers traditionally used in bridal bouquets are not easily found in Tahiti. One would think that anything grows in Tahiti, thanks to our tropical climate. Don't "Vahine's" (Tahitian women) wear flowers at their ear all the time? They do! Our volcanic islands are very luxuriant and flowers are everywhere. Those flowers however that are found in every garden or on the road side are not the ones you see in magazines and wedding blogs.
Roses? Peonies? Gerbera daisies? Baby's breath? Calla lilies? Hydrangeas (love them!)? Those are not grown in Tahiti.
They will be ordered in advance and imported from New-Zealand, so some species will not be available year-round either. I previously wrote an article on how to get the flowers of your dreams in Tahiti, but today I want to explore some creative alternatives to the traditional flower bouquet for your ceremony in Moorea.
4 Creative Bouquet Alternatives
To The Traditional Wedding Flowers
Bouquet Alternatives For A Wedding
#1. Flowers, Yes, But With A Beach Look!
Photo Credit: AngelM

This is using white Bougainvillea (that comes in a variety of colors, ranging from fushia, purple, orange or red) and pandanus. Guaranteed heat-proof.
Bouquet Alternatives For A Wedding
#2. Silk Flowers
Photo Credit: AngelM

If your heart is set on a particular flower or color, or you want to get creative with flowers in a color that does not exist, or you simply want white roses to look beautiful, go with silk! Roses, although beautiful, are extremely fragile so think of all the travels your roses will take to reach you on the wedding day, that is thousands of miles, loading, off loading and chances are, some will not look as beautiful as you picture it when they reach you, plus they'll fade super quickly under our climate.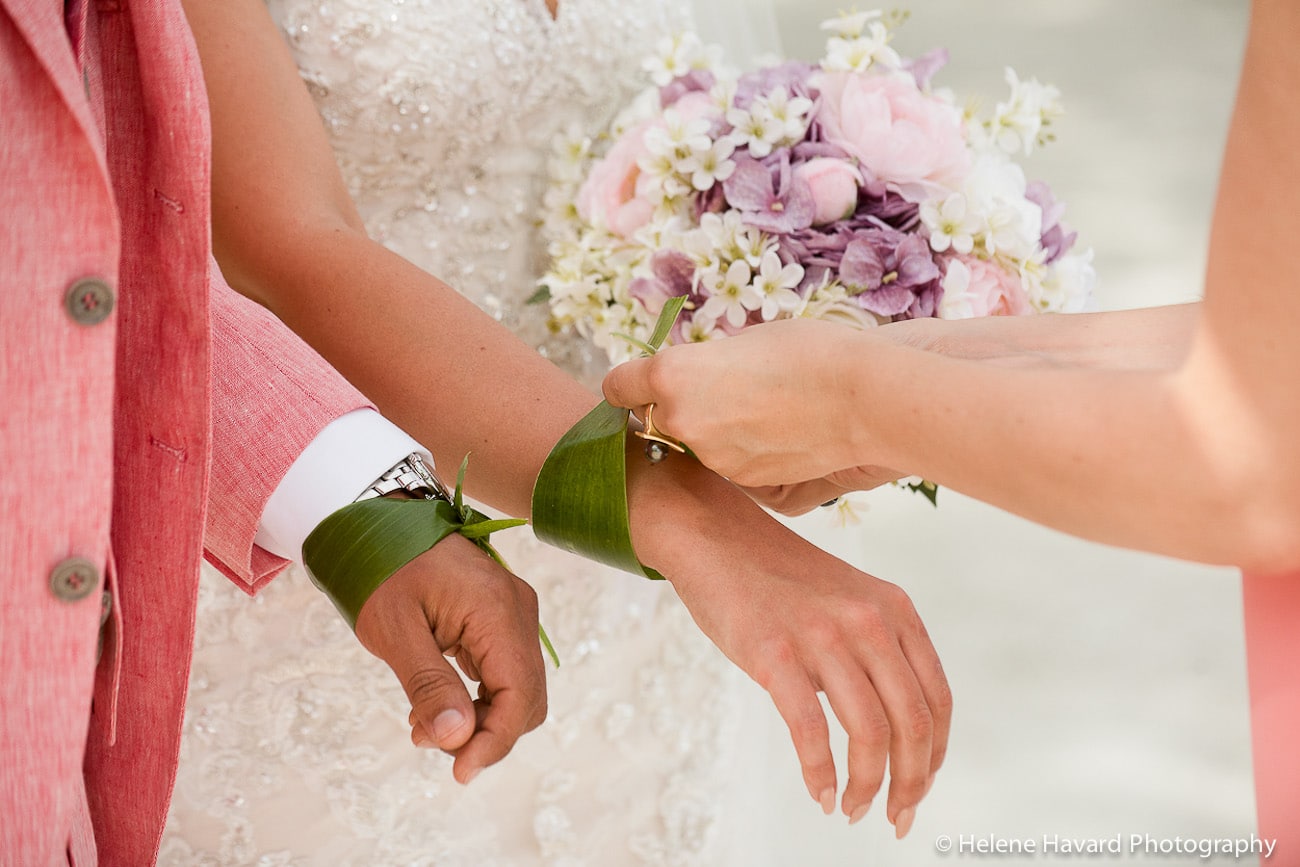 Photo Credit: Helene Havard
Bouquet Alternatives For A Wedding
#3. Jewels

This definitely takes you to the more sophisticated side, but how gorgeous is this bouquet?
Bouquet Alternatives For A Wedding
#4. Got A Sweet Tooth?

Look closer…
I found many many more on RockNRollBride in this 33 Alternative Bouquet Ideas For Non-Traditional Brides article!
I'm now obsessed with n°3, 11 and 24!
Want to learn more about wedding flowers and bouquets in Tahiti? These articles may be of interest to you:

How Much Does It Cost To Get Married In Tahiti When You Elope
How To Choose Wedding Flowers In Tahiti For Your Destination Wedding
How To Get Dream Wedding Flowers in Tahiti?
Will You Have A Ceremony In Moorea ? What's Your Favorite So Far ? Feel Free To Reach Out To Me And Let Me Know!
For more articles like these subscribe to my monthly newsletter HERE (and

Get the Free Report to pick the best Wedding Ceremony Location in Tahiti

)!