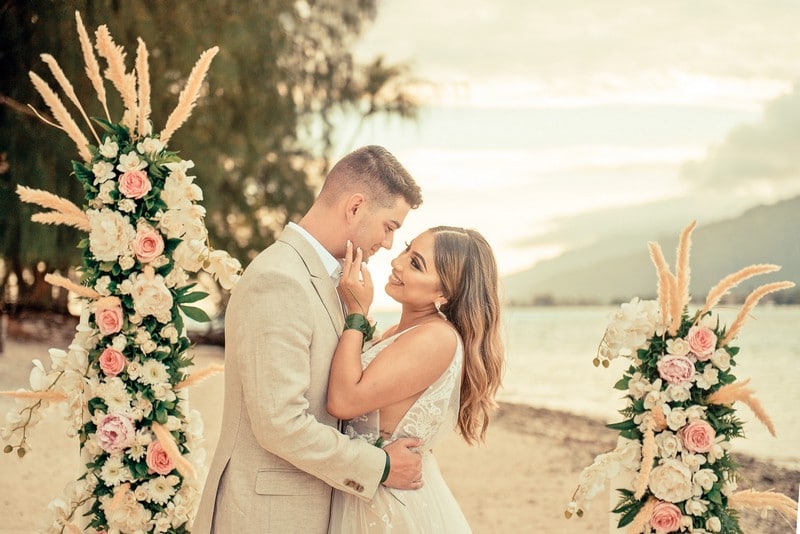 Pilar & Jerry live in Modesto, CA. They reached out to me 19 months before their planned wedding date of November 24, 2019 so we started the conversation back in April of 2018. Pilar said that she had been researching places to have her wedding in French Polynesia and originally wanted Bora Bora in a resort. She however had recently seen some images of people getting married on what looked like the top of a mountain, with a beautiful green background and her fiancé Jerry loved the idea. She was looking to get a wedding planner to help her with ideas, places she could possibly do a ceremony like that, saying that her fiancé and her wanted something super private just them, a beautiful altar, and their officiant.
The images she had seen were absolutely of one of my ceremonies up the Belvedere lookout in Moorea, where I have been officiating a number of weddings and vow renewals over the years.
If that sounds like something you would also like for your celebration in Moorea, you can head to the following real wedding stories on the blog:

Tiffany & Sean Mountain Top Wedding Ceremony in Moorea (under the 'elopements' tab)
Mountain Top Wedding in Moorea: Blake & Eric
The Mountain Top Wedding of Deanna & Eric in Moorea
Why A Sunrise Beach Ceremony Was Preferred Over A Mountain Top Wedding?

My only concern with Pilar & Jerry's plans of having a wedding on the top of a mountain was that their wedding date fell on a Sunday. While it is most common to marry on weekends when you have a home wedding – I mean, you want your guests to be off work, and to be able to rest the next day so you'd usually get married on a Saturday, you are free to marry any day of the week when you elope. No guests, no considerations of others' availability, no pressure whatsoever.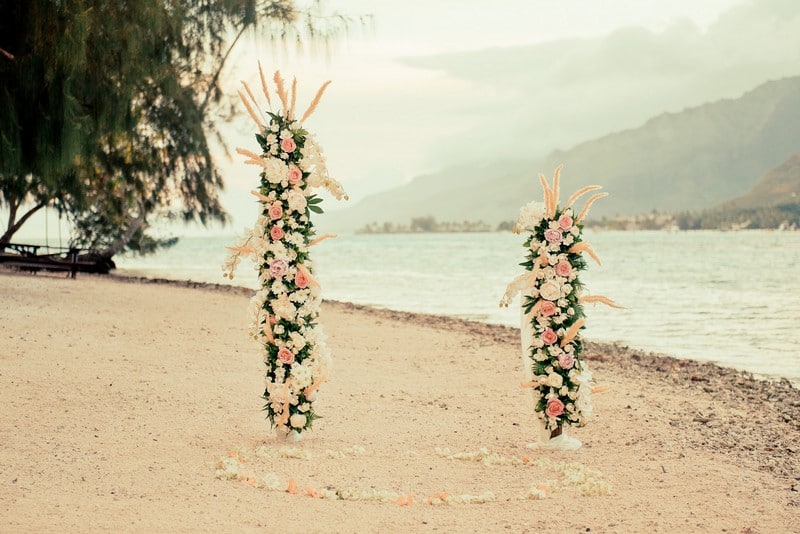 So my recommendation is actually to favor a week day rather than a weekend day. Why? Because like Pilar and Jerry you'll likely want something super private, with just the two of you in a beautiful scenery.
Whether you're getting married on the beach or up a mountain, with weekends come the crowds (not that it is ever really busy in here, but still, you preferably don't want to have any onlookers during your ceremony) and a public space – like the Belvedere in Moorea or a beach, will see an influx of visitors with peaks on weekends when locals also go hiking, cycling, swimming, snorkeling etc.
The date of November 24 was very important to Pilar and Jerry, so in order to guarantee privacy during the ceremony, they finally opted for a private islet beach at sunrise… and sunrise in November is, I let you guess, at 5am (Summer time in here!).
We would then hold their ceremony on the beach in the wee hours, and they would go shoot photos up the Belvedere next, when the lighting is absolutely amazing over the lush mountains.


Pilar & Jerry traveled with a friend of them who did Pilar's make-up and hair at their resort. Meanwhile, we set up their floral ceremony space in the pitch dark of an almost moonless night, because that's how much we wedding vendors care to deliver the dream experience our couples have traveled so far for.
It was a little overcast on that day but even so, the colors you can get in the photos, and the privacy, are well worth the effort!
I handed out her gorgeous bouquet to Pilar as she and Jerry arrived at the beach, she pined Jerry's boutonnière and we went on to proceeding with their sunrise ceremony!

The sun rose in the background during the ceremony, and while they exchanged their personal vows.
I said that before, but I am so appreciative of my couples trusting me in developing and officiating their ceremony in Moorea. And when we can also witness such beauty and peacefulness all while marrying couples, I feel even luckier to be doing what I do.

Wish you the best of happiness Pilar & Jerry!
You can also read Best Of Tahiti Weddings: Ruben & Vicky's Sunrise Ceremony in Moorea

• Moorea Wedding Planner + Officiant in Moorea: Nelly at wedOtahiti
• Moorea Wedding Photographers: Helene Havard Photography and Flying World Pictures
• Floral ceremony space: Weddings in Moorea
Not Sure How To Plan A Wedding In Tahiti? Contact Me Here To Get Started With Planning Your Tahiti Wedding!
For more articles like these subscribe to my monthly newsletter HERE (and

Get the Free Report to pick the best Wedding Ceremony Location in Tahiti

)!