When giving an initial thought to your planned renewal of vows or wedding ceremony in Moorea, what usually comes to mind is an afternoon celebration. But is that really the best time for a ceremony in Moorea?
Traditional weddings are typically held in the late afternoon after all, to be immediately followed by a cocktail hour and the wedding reception.
That's what we all know from the home weddings we've attended as guests.
But your ceremony in Moorea won't be quite like a home wedding since for one it will be in Moorea (yeah!) and second there won't be any guests if you're eloping… and let me take a guess:
You Want A Very Private Ceremony In Moorea, Right?

Most couples come to me with the idea of having a private ceremony in Moorea, just the two of them, on an empty beach [or whatever place they'd see themselves exchanging I do's at].
Sometimes they are considering a wedding at their resort – which means in most places no privacy at all – sometimes they know that they don't want the cookie-cutter resort wedding package (and all the onlookers that usually come with the package but are not listed in the package!) but what they don't realize is that the dreamy empty beach they envision for their wedding in Moorea is more than just stopping at any beach, at any time.
An empty beach or a quiet location requires planning, connections and experience. In most cases it also comes with a cost (because one has to rake that beach to make it beautiful for your ceremony and your photos, and the most gorgeous beaches on Moorea are located off the main island and require a quick boat ride to get there).
That's why you need me as your elopement wedding planner and officiant.
I Know Exactly What The Best Places Are, And What The Best Time For A Ceremony In Moorea Is.
Sunrise Ceremony in Moorea:

One for the early risers! Best is to stay on the Eastern side of the island to be the closest possible to the location where the ceremony will be held. It means waking up extra early but the magic of a sunrise and the privacy is well worth the effort! Best of all it's free!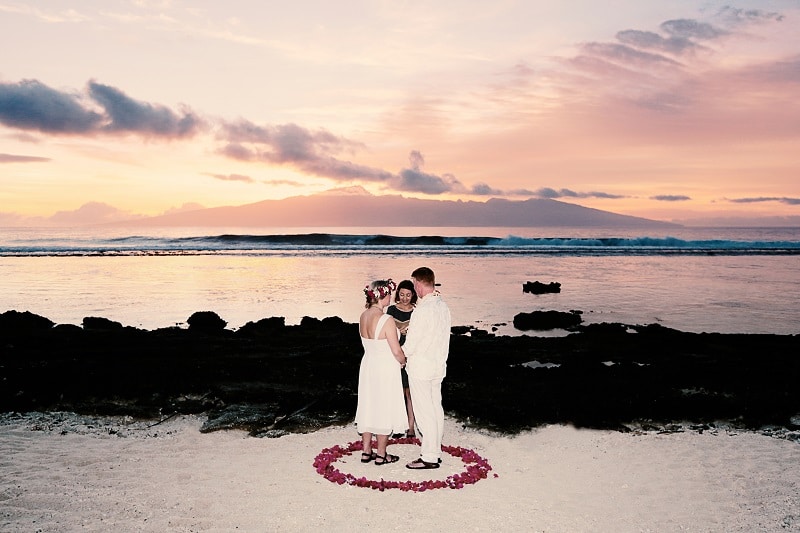 Photo Credit: Olivera Photography (Commitment Ceremony)

From March to September, a sunrise ceremony in Moorea will take place between 6am and 6:30am depending on your date, and from October to December it will be between 5:15am and 5:45am.
And in case you wonder, yes we're all happy – hair stylist, make-up artist, and me – to meet you while it's still dark to get you pampered and looking gorgeous for the photos. We're in this industry for a reason and we know what it takes to capture these first rays of sun!
Morning Ceremony in Moorea:

The morning is when you can capture those bright colors, many shades of blue you often see in the brochures. In order to ensure the best privacy for your ceremony, I recommend holding it before 9am, before visitors start getting out and around (and in your photos).
Photo Credit: Helene Havard (Wedding Ceremony incl. the traditional Polynesian blessings)
Afternoon ~ Sunset Ceremony in Moorea:

An afternoon or sunset ceremony in Moorea is the trickiest as this is the time of the day which is the busiest when everyone is out sunbathing and enjoying the lagoon. Colors in the afternoon also tend to be softer/whiter with less contrast between the lagoon and the sky, turning yellowish/orange as we get closer to sunset. That means a location on the Western side of the island would be preferred for best lighting.
Photo Credit: Jean-Philippe Yuam (Wedding Ceremony of a Western-style)
I'm here to help you figure out what will work best for you, depending on where you'll be staying in Moorea, what photos and/or video you'd like to be done on the day, and also according to the location you have in mind, whether it be a beach, a mountain lookout, pineapple fields etc.
Do You Need Help Planning Your Ceremony In Moorea? Contact Me Here To Get Started!
For more articles like these subscribe to my monthly newsletter HERE (and

Get the Free Report to pick the best Wedding Ceremony Location in Tahiti

)!