Photo Credit: AngelM

Among (some of) the misconceptions lots of people have about Tahiti, is the idea that all flowers are available in Tahiti. It is true that most islands are very luxuriant (with the exception of the Tuamotu islands which are atolls and have very little vegetation) and that Tahitian women all wear flowers in their hair or on the ear… so wedding flowers in Tahiti should be the least difficult thing to supply, right?
Well we actually only have tropical flowers in here, which makes sense if you think about it – we are under a tropical climate – so that makes your options kind of very limited, a handful of flower varieties really.
Photo Credit: Helene Havard

And no, there is no floral shop in Moorea… there are barely 3 tiny floral shops in Tahiti, the capital island, where I'll get my florist vendors to work something as close as possible to your wedding accent color and/or preferred style for your flowers. We can't however produce anything like those amazing bridal bouquets that are all over Pinterest & Instagram, all designed with very delicate flowers and incredible color palettes, because we don't have any of these in here, and shipping flowers to Tahiti often always brings its share of surprises.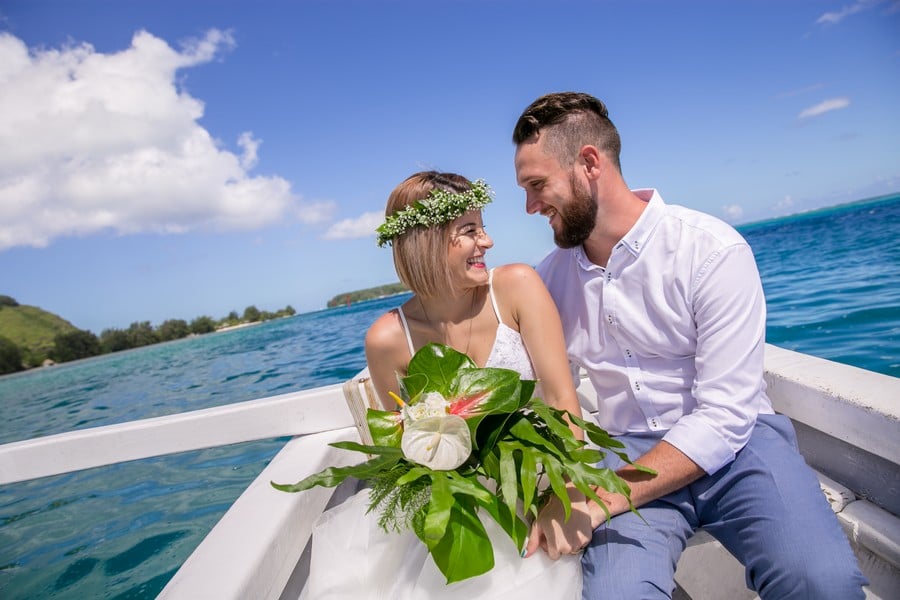 Photo Credit: Jean-Philippe Yuam

Tropical bouquets come in different sizes and shapes, as you can see above with a round bouquet (made of anthuriums, proteas and orchids), a cascading bouquet (made of gardenias and dendrobium orchids), and an oversized bouquet (made of anthuriums and tropical leaves/greeneries).
When popular wedding flowers such as peonies or ranunculus (my favorite!) are in season in New-Zealand, we of course jump at the opportunity to bring those beauties to our brides bouquets in Tahiti!
Interested in what a wedding bouquet costs in Tahiti? Head here.
Voir cette publication sur Instagram
Voir cette publication sur Instagram
Learn more about wedding flowers in Tahiti and what's available for your destination wedding in these past articles:
How To Get Dream Wedding Flowers In Tahiti?
Flower Crowns vs. Hair Accessory: Wedding Trends To Lose Or To Love?
4 Creative Alternatives To The Traditional Flower Bouquet
* last updated on October 25, 2018 *
Not Sure Of What Flowers You Can Have For Your Destination Wedding In Tahiti? Contact Me Here For Some Guidance!
For more articles like these subscribe to my monthly newsletter HERE (and

Get the Free Report to pick the best Wedding Ceremony Location in Tahiti

)!