Miranda & Nadim used to live in London, UK but moved to Sydney, Australia just a few months prior to them having their wedding. Miranda is originally from Canada, and Nadim from Australia, so Moorea – Tahiti was the ideal place for the two families to meet midway! They really wanted to have a one of a kind destination wedding in Moorea, and I was up for the challenge!

Miranda & Nadim held their destination wedding in Moorea this past November, with their immediate family and friends in attendance. 22 folks who traveled from Edmonton, Canada, as well as from Perth and Sydney, Australia.
When they first reached out, Miranda & Nadim told me they've had a look at different wedding packages that the hotels provide and these just didn't seem to suit what they wanted – simple and elegant. They wanted a western style wedding ceremony (they did the legal part in Sydney before traveling to Moorea) with a reception focusing on a nice dinner and drinks.
For the ceremony they weren't all the keen on a ceremony arch/altar that has fabric draped over it and found a style they loved online, with some tall branches and white flowers on both sides of the ceremony space, so we worked from that single inspirational image and designed a ceremony space that would have a similar feel but would be uniquely theirs.

For the reception Miranda really loved the idea of having it look really romantic with fairy lights/candles etc.
For colours her idea was to keeping it white / white with gold accents and maybe a tiny bit of greenery.
Miranda & Nadim looked at this day as not the traditional wedding where they would draw everybody's attention to them, but rather as a gorgeous day filled with joy and happiness, celebrating with all the people they love so dearly.
They were thrilled with the entertainment flow all throughout the night, starting with a former Cirque du Soleil' acrobat pouring Champagne into flutes from the air – clearly a huge surprise to all of their guests as they entered into the reception venue – continuing on with jazz music played on the saxophone, and two more acrobat's performances during dinner, before getting the party started!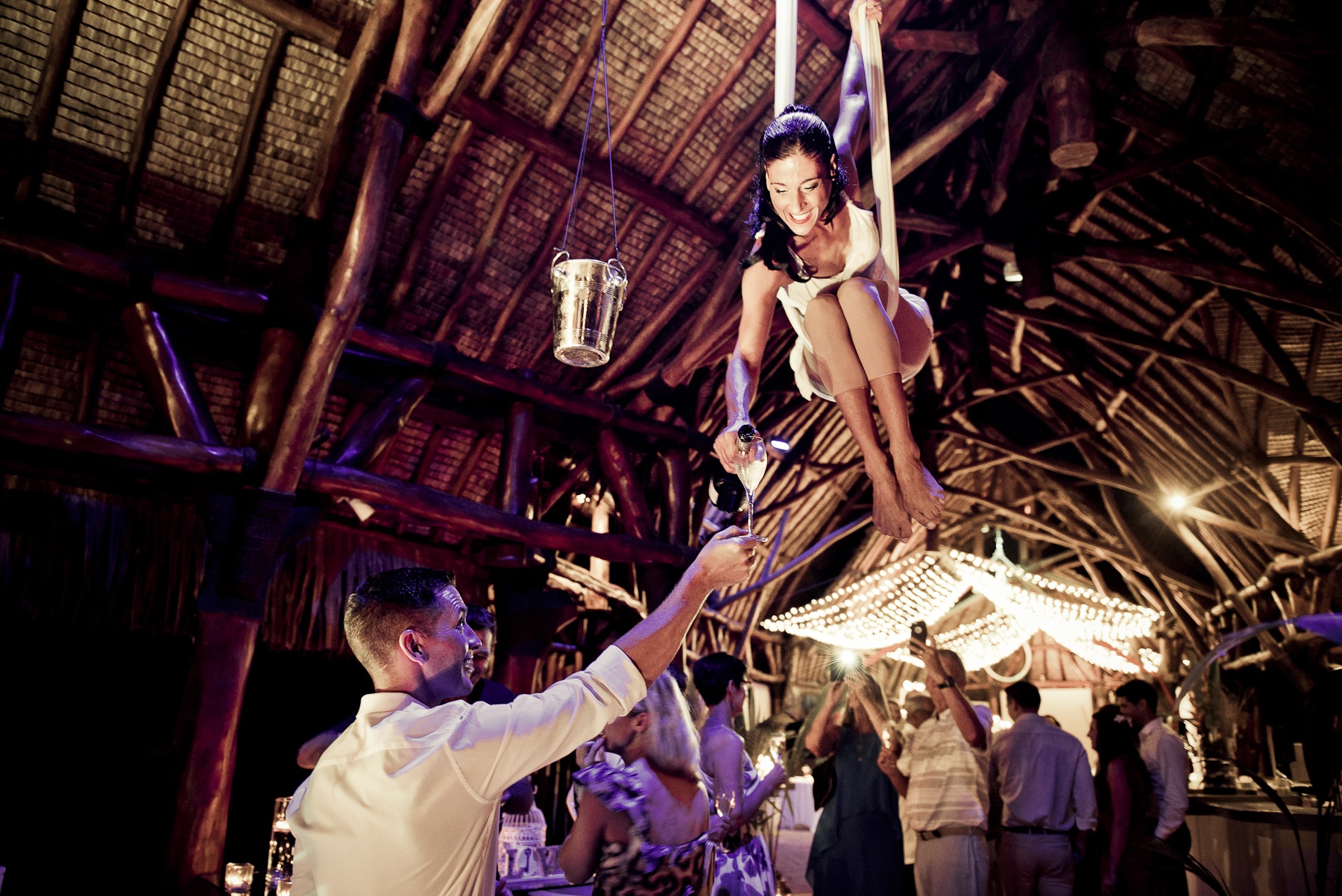 Nelly and her team were absolutely amazing in helping us plan the wedding of our dreams in Moorea. Going into it, we weren't entirely sure what we wanted, apart from an unforgettable day in the most beautiful place in the world! Neither of us had ever been to Moorea so we were unsure of what was available and Nelly was able to provide many options based on our tastes, budget and availability – she even gave us 'entertainment' options we would have never imagined which definitely wow-ed our guests!

She was very professional in every aspect and her calm nature helped keep both the planning and the wedding stress free. On the day, we were completely blown away by how accurately she made our vision come to life – it was everything we could have dreamed of and more! And she was there for every minute of it, in the background ensuring that every aspect was perfect.

We couldn't recommend Nelly enough – she gave us more than we could have asked for. Thanks Nelly, for the most perfect day!

Thank you Miranda & Nadim for choosing Moorea for your destination wedding and for trusting us in handling it, and we wish you the greatest of happiness!
More photos of this one of a kind Moorea destination wedding in the gallery under the 'destination weddings' tab!
• Wedding Planner in Moorea + Wedding Officiant/Celebrant: Nelly at wedOtahiti
• Ceremony & reception décor: Weddings in Moorea
• Photographer: Helene Havard + Flying World Pictures
Thinking That Moorea Is Your Place? Do You Want Me To Help You Plan Your Destination Wedding? Contact Me Here!
For more articles like these subscribe to my monthly newsletter HERE (and

Get the Free Report to pick the best Wedding Ceremony Location in Tahiti

)!