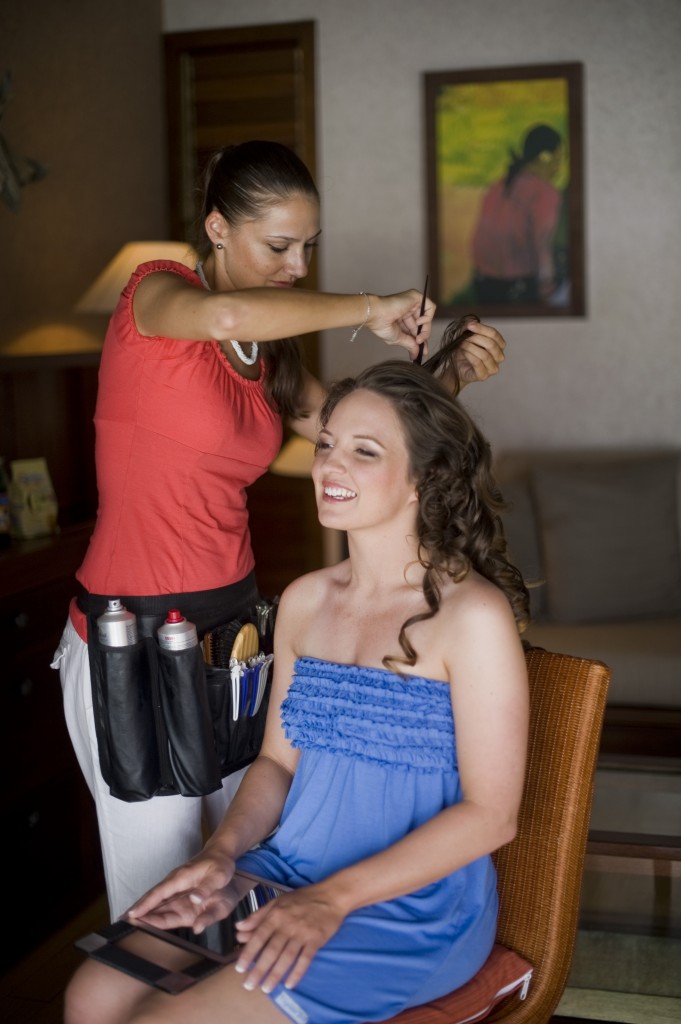 Back in 2015, I started a series of interviews of my preferred wedding vendors in Tahiti, all those amazing wedding entrepreneurs I am lucky to work with. Aurelie is based on the beautiful island of Bora Bora (want to get married in Bora Bora and are on the search for a hair stylist in Bora Bora? read this first) the "Pearl of the Pacific", and she is both a hair stylist and a make-up artist.
With these blog interviews, I want to bring the very best people to you. I've worked with these individuals, and would refer them to anyone of my couples without hesitation!
Hair Stylist In Bora Bora
HMUA AURELIE
This month's wedding vendor whom I want you to get to know is Aurélie from Bora Bora Bridal Beauty, a talented make-up artist & hair stylist in Bora Bora.
1. Tell Us A Bit About Yourself And What Led You To Bora Bora.
The world of beauty care is much more than a job for me, it's a passion. I started studying to become a beautician at the age of 15 in Paris (sandwich training), also trained with Make Up Forever and did several trainings in hair styling. 5 years later I was off to Great-Britain where I lived for 4 years, then moved to Australia for 2 years and here I am, in Bora Bora for over 7 years now.
The combined experience in different countries and of different cultures is very precious to me.
I created and launched my own business called Bora Bora Bridal Beauty 6 years ago, with a mission to fulfil brides' needs and also help with photo-shooting requests.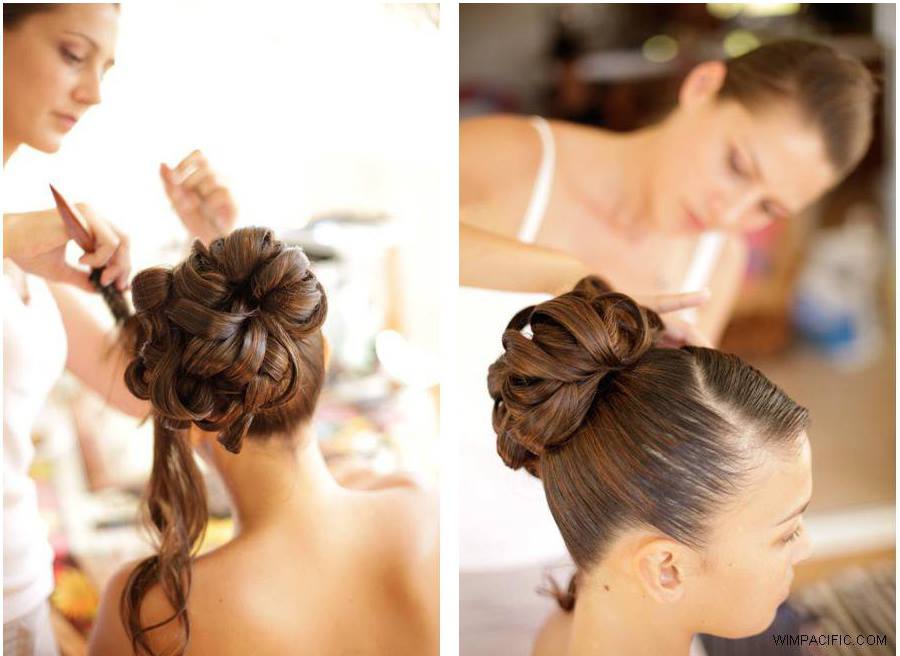 2. How Do You Work With A Bride? What Needs To Be Determined Early In The Planning?
Getting married in the Islands of Tahiti is a dream for thousands of people and for most, this is a destination afar from home. It is therefore difficult to do a trial for hair & make-up as most people only stay in Bora Bora for a few days. This is why I mostly work from photos, to reproduce a hair style or a make-up she likes.
I meet the bride in her hotel room on the day to do her hair and then do her make-up.
It is important that the bride takes into consideration our tropical climate before she chooses a style; my knowledge and experience allow me to give expert advices to my clients to determine what will work best for her.
3. What Inspires You? Are There Colors Or Trends You Absolutely Love?
To me what's extremely important is to really immerse myself in the bride's world. It is very inspiring for me. Looking at the dress and the accessories helps me find THE right hair style and make-up to beautify the ensemble.
The dress, the shoes, the flowers, the bride's personality, her hair, her make-up… must be totally harmonious as a whole.
The bride must have a natural yet beautiful look. There's nothing more satisfying than to hear a bride say she's never looked so beautiful than on her wedding day.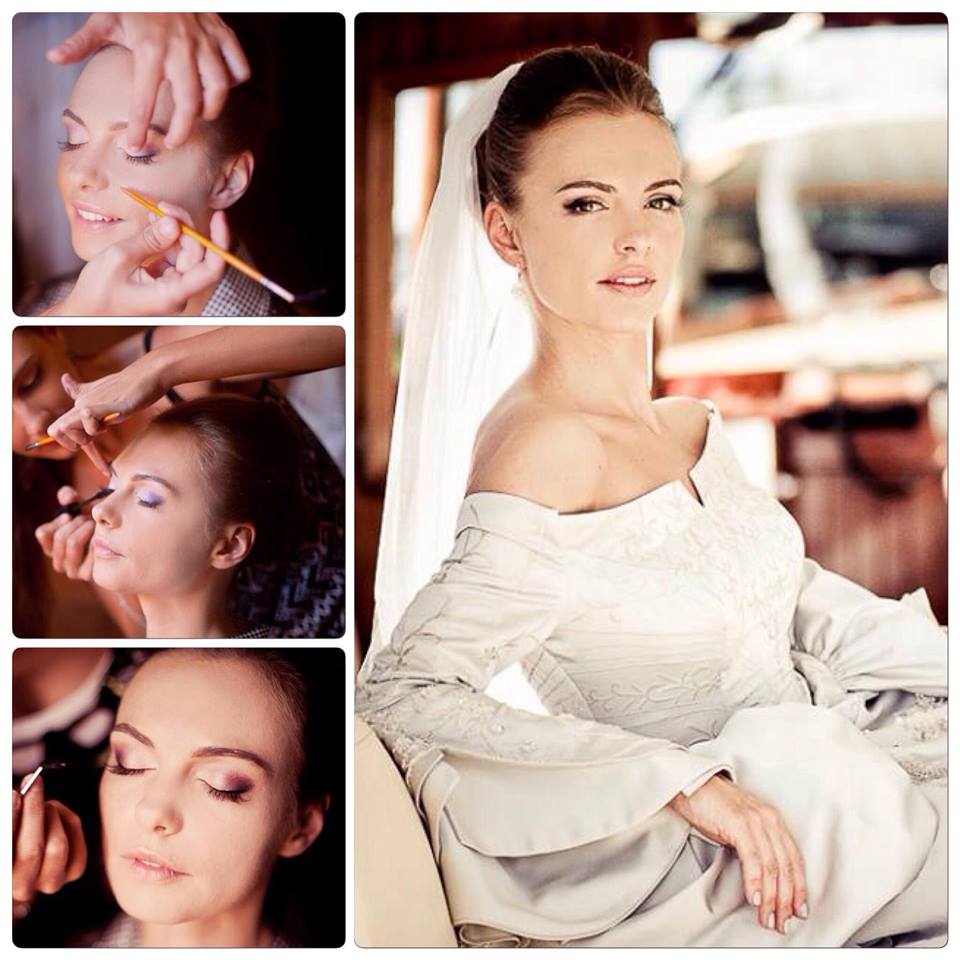 4. What's Your Favorite Part Of The Job?
The artistic side of it and the creativity it involves. When I'm creating a hair style minutes seem like seconds to me. Being able to imagine and develop a hair style or a make-up for such an important and a magic moment is a real privilege.
5. Any Advice To Pass Along To A Bride About Her Dress / Accessories / Make Up Style?
Here are my advices for your wedding in Bora Bora :

– the latest trend that is just perfect for a destination wedding in Bora Bora is the zip-off wedding dress that allows the dress to be worn as a long gown or a short cocktail by zipping-off the skirts. That is perfect under a hot climate.
– nothing beats Tahitian black pearls to perfect your look.
– Bora Bora is part of the Leeward Islands which means it can get windy! So go for a tighter hair style that will remain impeccable throughout the day.
– a waterproof make-up is also recommended
– if you'd like to have a look that is perfect throughout the ceremony and your photo-shooting, you can hire me to do the touch ups anytime.
– if you intend to wear high heels on your wedding day, choose slightly larger heels preferably and bring a pair of sandals along so you can walk more easily during the photo-shooting.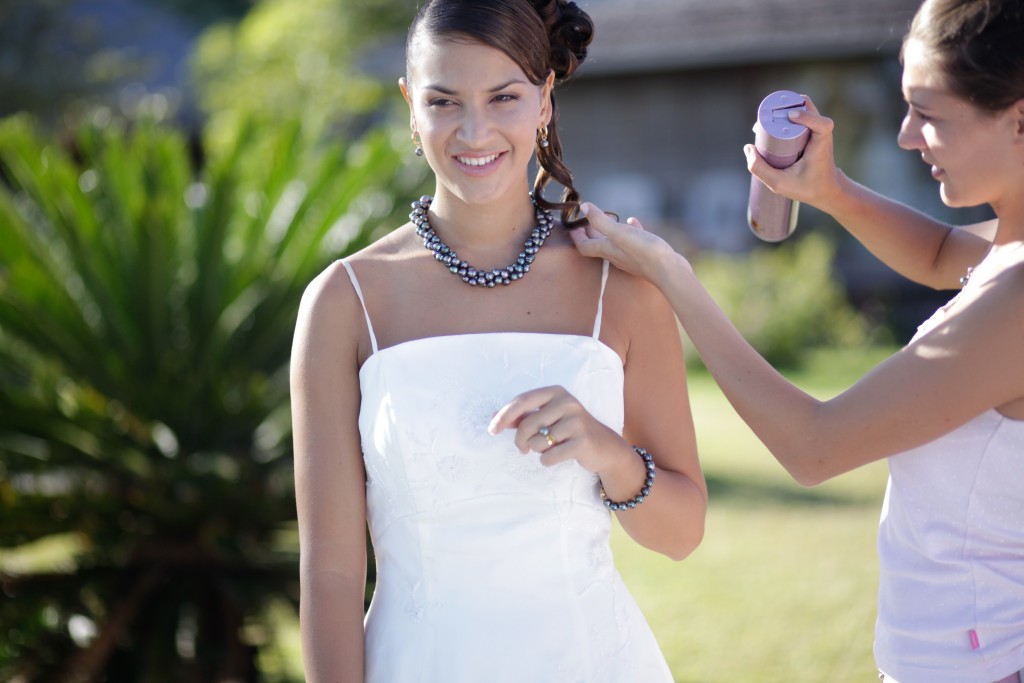 Photo Credit: Bora Bora Bridal Beauty unless otherwise stated
Thanks Aurélie! For more about Aurélie, you can head straight to her website.
Do you have any questions or comments for Aurélie? Feel Free To Reach Out To Me!
For more articles like these subscribe to my monthly newsletter HERE (and

Get the Free Report to pick the best Wedding Ceremony Location in Tahiti

)!