Photo Credit: Jean-Philippe Yuam
Wedding Flowers In Moorea: Why Buying Locally ?

I wrote this before but when you buy flowers that were grown locally, you are supporting local business as well as eliminating environmental concerns.
One must know that conventionally grown flowers are often heavily sprayed with pesticides and fungicides before shipping anywhere, as to avoid invasive pest species to develop. Packing and shipping flowers thousands of miles, or flying them thousands of miles – don't forget that Tahiti is in the middle of the South Pacific ! – has great consequences, including polluting our water and air… so while we all love flowers of all sorts, you may want to favor tropical flowers grown in Tahiti.
What Wedding Flowers Can I Find In Moorea?

Flowers such as peonies, hydrangeas, tulips or most roses are imported from New-Zealand to Tahiti, so not only do they come at a higher cost, but they are not readily available and must be pre-ordered. Peonies for example only come in the last few months of the year, and hydrangeas from December to May, that is, when they're in season in New-Zealand. Some species are even forbidden and cannot be imported at all because of plant control regulations, such as the beautiful calla lilies or any variety of orchids, so if this is your favorite flower, you'll have to go with faux.
I have a variety of Floramatique® Real Touch in-demand flowers for when your favorites are off season (peonies, hydrangeas, Phalaenopsis orchids…). These are created with patented materials, creating real-to-the-touch flowers with vibrant, true-to-life colors, not forgetting that they work well under our tropical climate that would wilt conventional wedding flowers very quickly. The nice thing is that they can be used over and over again, or if you bring your own you can  then use them to decorate your home after the wedding, and they will still look great on your twenty-fifth anniversary, so that's a good alternative in my opinion.
So while your wedding flowers will most likely be organized way earlier than that, don't leave little extra orders to the last minute, as flowers fly in to Tahiti just once a week so a 2-week delay is to be expected from the moment we take your order until your flowers are available in Tahiti, at the minimum.
My Top 3 Wedding Flowers' Favorites In Moorea

Of course as a Green Wedding Professional, I'll suggest that you use local flowers in your flower arrangements.
You're marrying in Tahiti after all and this will distinguish the wedding from the domestic weddings all guests in the party have previously been to.
Here are my 3 favorite wedding flowers in Tahiti :
1. Gardenia
While the regular gardenia or Tiare flower (the emblem of Tahiti) comes year-round, the one that looks & smells like jasmine only comes in December, and that's my absolute favorite! She's called the Taina flower!
Photo Credit: Helene Havard
Photo Credit: Jean-Philippe Yuam
2. Anthurium
Anthurium is also available year-round and comes in a variety of colors including white, red, pink, orange, green or salmon pink.
Photo Credit: Helene Havard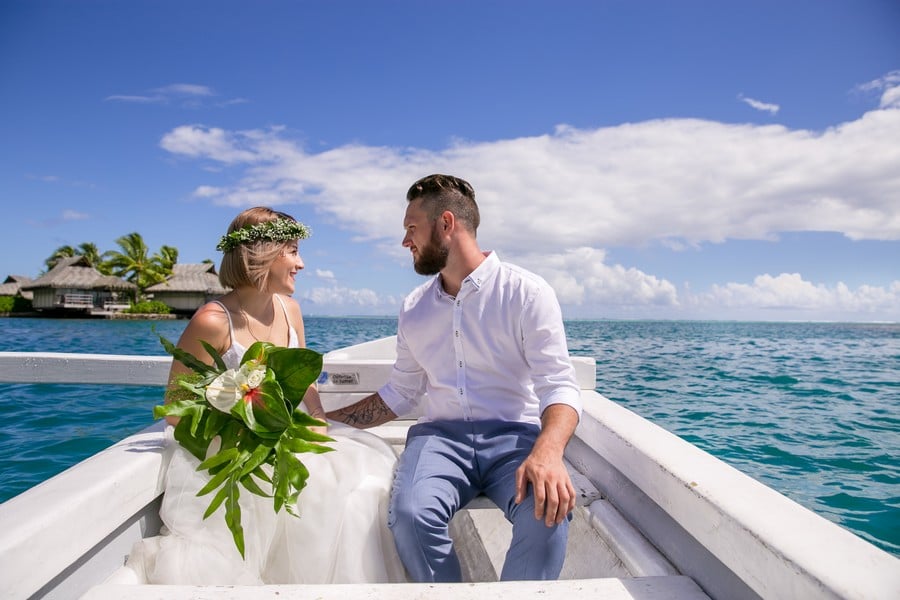 Photo Credit: Jean-Philippe Yuam
3. Orchids
Local species have smaller blooms (they are dendrobium orchids that come in white or in purple) however it is possible to get the bigger ones (Phalaenopsis) if they happen to bloom about at the right time ! Note however that the production is very tiny on Tahiti so when a larger quantity is needed, again we'll go with real-looking faux Phalaenopsis.
Photo Credit: AngelM
Photo Credit: DigitStudio
Whether you are looking at achieving a specific look and/or finding blooms in a particular color, I'll be happy to give you my advice and tell you what will be available on your wedding day.
For more articles like these subscribe to my monthly newsletter HERE (and

Get the Free Report to pick the best Wedding Ceremony Location in Tahiti

)!