When I started out my destination wedding planning business, I had no idea that this beautiful couple pictured below would inspire me to become a wedding officiant; back at the time, when Megan inquired about hiring a wedding officiant for her beach wedding in Tahiti (actually, Moorea) and I had to explain that there was none because in here, the legal wedding takes place at the City Hall before the Mayor or a rep, and is usually followed by a religious ceremony for the church-goers, so there was not such an occupation as being an officiant in Tahiti… so Megan sent over the ceremony that she wanted to be read, and I arranged for someone to read it off their provided script.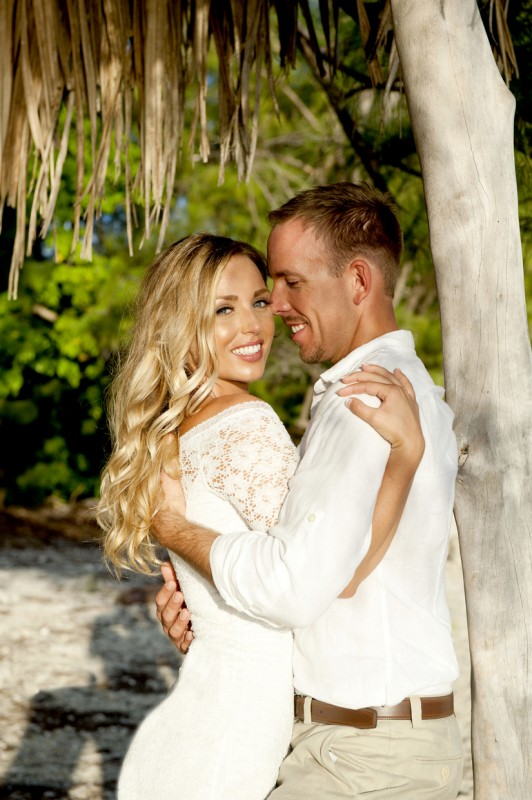 This is what led to start researching how to become a wedding officiant, because clearly you can't just wing it! I'm a very detail-oriented person and as a Wedding Planner, my ultimate goal is to plan elopements or destination weddings in Moorea that feel both intimate and personalized to my couples, so becoming an Officiant in Moorea for me was so much more than simply putting together a collection of ceremonies for my couples to choose from, and read them out loud in front of my couples (although the officiating part alone at first felt super intimidating to me). I trained for 7 months and certified in the U.S. as a Life-Cycle Wedding Celebrant, the first and only in Tahiti to date.
It's all about bringing your entire wedding experience in Tahiti to another level, including personalizing the most important piece of the wedding day, I name it, your ceremony.
I've now been writing personalized wedding ceremonies, and officiated in Moorea, Bora Bora, Taha'a, Rangiroa and of course, Tahiti, since 2015, thanks to this gorgeous couple, and I love it! Head over there to read what your options are for an intimate wedding or vow renewal ceremony with me in those islands!
So thank you so much Megan & Jake for inspiring me to become the Celebrant I am today.
Here's their unique love story for you to get inspired as well:
Megan & Jake's Secret Beach Wedding In Tahiti: How It All Started

Back in November 2013, Megan & Jake were on their first trip to Hawaii. In the months leading up to the trip, with much excitement and anticipation, they both thought that this would be the most unbelievable trip yet. They were right! Jake popped the question! Elated and completely surprised, Megan said "yes!" (of course).
Why Did They Decide To Elope And Have A Secret Boho Chic Beach Wedding In Moorea?

While they could have married legally in Moorea, Megan & Jake decided to do the paperwork at the court in the U.S. The day before they boarded the plane from Los Angeles to Tahiti, they shipped out gifts to their parents with a heart-felt note stating that they were leaving the country to be wed on June 4th, 2014! They asked that they keep it a secret until they return from their island escape. Upon their return, they shipped out 50 hand-made message in a bottle announcements; corked with a sea shell stamp, they had a teal bow accenting the bottle, white sand at the bottom and each came with a unique sea shell keepsake.
Never one to care for labels or name brands, and a little girl who never wanted the "story book" wedding and princess gown – Megan purchased her dress online from China for $10.99. A few small alterations were made and a lace detailed hem was added by a seamstress, putting the total cost for the dress at just under $40. She quickly fell in love with the dresses "off the shoulder" neckline, and wanted the chunky boho chic necklace to be the statement piece – not the dress.
The groom wanted a simple bohemian look that would vibe with the casual beach setting. He wore linen khaki pants and a white linen button up shirt. His attire was very relaxed and comfortable.
Now on to the questions to Megan:
1. Why did you choose to marry in French Polynesia?

We love to travel! After getting engaged in Maui, we longed for a tropical island elopement. Tahiti's beautiful culture and stunning teal waters drew the perfect picture in our mind of our wedding/honeymoon. We were also so happy to check another "bucket list" item off our list, as we stayed in a remote over water bungalow and were able to snorkel right off our private patio every day! We fell in love with Moorea and look forward to returning for a future anniversary.
2. Where did it take place and why did you choose this island/venue/spot

We chose to stay on Moorea after researching its beautiful clear-blue lagoon water, bountiful hiking, scenic drives and endless breath taking views. Our wedding planner, Nelly Grange, helped find the perfect wedding setting, Motu Tiahura; a private islet beach (off the main island) where it would be just the 2 of us in a beautiful setting. We dreamt of exchanging vows on a tiny islet that was an adventure to get to, and Motu Tiahura definitely was! A highlight of the location was the outrigger canoe that we took to and from the island.
3. Can you tell us a little bit about the planning process, how did it go? Any mishaps? Any DIY?

After we booked the flight for our tropical wedding adventure, we quickly realized that it may be hard to have a custom wedding, tailored to us, rather than the cookie-cutter wedding that the island resorts offer. After researching online for weeks, we found the amazing island photographer, Helene Havard, who gratefully referred us to the talented Nelly Grange at wedOtahiti. Nelly is one of a kind, and really the only wedding planner of French Polynesia who specializes in remarkable and incredibly unique weddings. Once I found her, I quickly realized what a gem she was and how easy she could make our envisioned day come true. Nelly Grange was the key to unlock our colorful destination wedding and I am forever thankful that I didn't have to settle for the traditional Tahitian wedding orchestrated by a hotel. Our wedding day went smoothly and was stress free — an intimate party on a private beach, for just the two of us.
4. What's your best memory of your beach wedding in Tahiti – Moorea?

Our favorite memory of our wedding day was the romantic evening that followed the ceremony and pictures. Dinner was spectacular; a delightful blend of fresh fish and local fruit and vegetables, but the setting was absolutely magical. The sun set, filling the sky with a glorious orange and pink that complimented the glistening ocean view. When the sky darkened, we were amazed by the star-filled beauty and peacefulness of the motu. The table was glowing with candles and torches, surrounded by tropical floral scents and the most unreal aroma from our Tiare flower wedding leis. That night, with our feet in the white sand and glasses filled with French wine, is something we will always remember. Even the canoe ride back to the main island was breathtaking. On the ocean surrounded by water and stars, we slowly approached the shores of Moorea that were lit with torches and radiating the thundering sounds of a Tahitian luau. The evening was an utterly romantic journey! Simply amazing!
5. If you were to do it all again, would you do anything differently?

No. Our elopement was everything we wanted and more. It was so much fun secretly getting married in the U.S. before traveling to Moorea to privately tie the knot on a beach with my best friend… only then to let our relatives know about our marriage! There were no outside pressures, or expectations to follow tradition. We were left with such a wonderfully unique experience, that we plan to re-marry again, and maybe again while on vacation – just for the fun of it! However, nothing will hold a candle to our true wedding day in Moorea.
6. What would you recommend to other brides-to-be?

If getting married in French Polynesia, don't waste time – go straight to Nelly Grange and feel confident that knows what she's doing! Venue/location, food, hair, make up, flowers, nails, decoration, transportation — Nelly has it covered and has many wonderful resources! I couldn't imagine planning a wedding in Tahiti without her!

Thank you so much Megan & Jake for having me at your secret beach wedding in Moorea! It was such a pleasure working with you two.
• Wedding Planner in Moorea: Nelly at wedOtahiti
• Photographer: Helene Havard
• Hair: Mireille
• Make-up: Meryl Rouger
Do You Want Me To Write A Personalized Wedding Ceremony For Your Elopement In Moorea? Contact Me Here!
For more articles like these subscribe to my monthly newsletter HERE (and

Get the Free Report to pick the best Wedding Ceremony Location in Tahiti

)!