I have been asked by clients about this a few times so I wanted to touch on having a church wedding in Tahiti here on the blog.
In France, and as such, in Tahiti, a church (any church) wedding is not recognized as a legal marriage.
Only a civil ceremony taking place at the City Hall before the Mayor of the commune in which you intend to marry (or one of his/her authorized representatives) is deemed legal.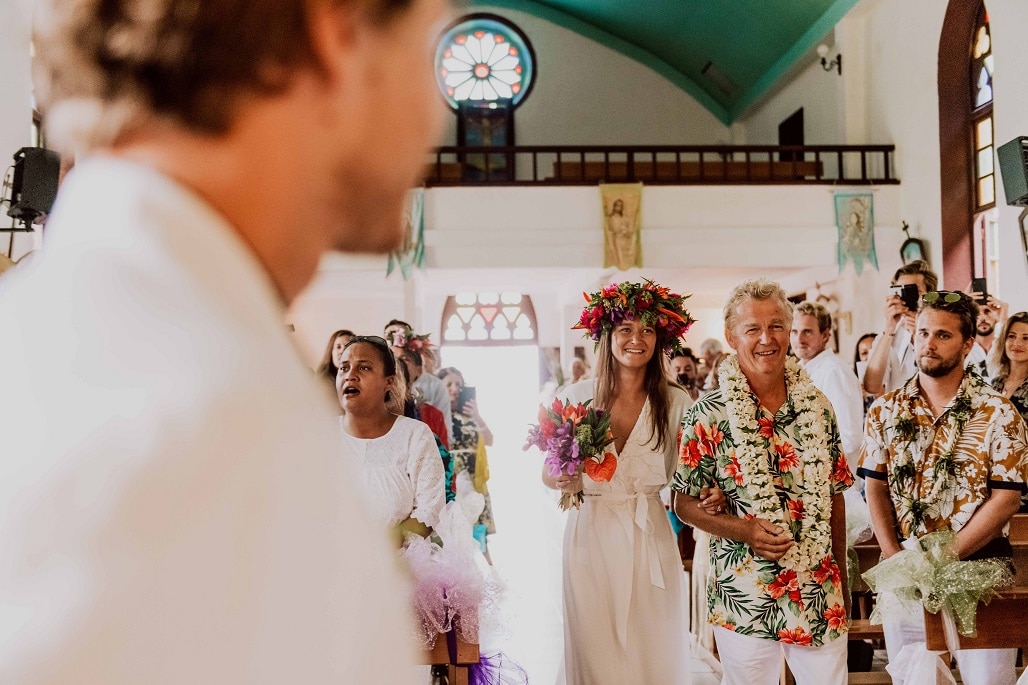 Photo Credit (both photos): Marc Gerard Photography Tahiti
"Well, We Don't Want Our Marriage To Be Legal, But We Want A Religious Ceremony In Tahiti".

Unfortunately, unlike in some other countries, a church wedding in Tahiti will only be performed after you've been legally married, whether that is in Tahiti or in your home country.
If you have a legal wedding in Tahiti, along with the "Livret de Famille" (French family book) and your marriage certificates that you'll receive from the Mayor on the day, will be a certificate addressed to religious authorities that attests that you've had a civil ceremony and that you can be married at the church. Without that certificate, no church wedding.

If you decide to get legally married at home prior to traveling to Tahiti, and to have a religious ceremony in Tahiti, you'll need to provide proof of your legal marriage before you can book a date.
Also, requirements will vary depending on your church. The Catholic church for example is the most formal as they'll require that you do pre-cana counseling, marriage prep and some paperwork, which you will likely do with your home parish (and then provide proof of the completion of everything to the Tahiti parish), other churches not as much.
Remember that Tahiti is a French-speaking country so all paperwork will need to be translated in French, and of course, the ceremony itself will be conducted in French, too.
I've been doing a post series about legal weddings in Tahiti, again by popular demand, to cover what are the steps to get a legal marriage in Tahiti.
Related articles:

Tahiti Legal Wedding 101: How Much Does It Actually Cost
Tahiti Legal Wedding 101: What Are The Requirements
Tahiti Legal Wedding 101: What Official Documents Do I Need To Organize
Tahiti Legal Wedding 101: How To Finalize The Paperwork
Tahiti Legal Wedding 101: After The Wedding Wrap Up
I Want To Hear From You! Do You Want To Submit a Topic To Be Covered On The Blog? Click HERE To Submit Your Question!
For more articles like these subscribe to my monthly newsletter HERE (and

Get the Free Report to pick the best Wedding Ceremony Location in Tahiti

)!